If we had to pick the top most common misconception about working remotely, it'd be that being a remote worker is easy as pie. That you simply keep your PJs on, log on to your computer, and then start pretending that you're working.
False. Working from home is as equally challenging as working in an office.
TalentLMS surveyed 450 remote workers who revealed how they work, their remote work productivity tips, and the skills beginners should master before joining their community.
Here they are:
1. Ask to work from home
The first remote work productivity tip is to work from home as much as you can if you've already concluded that this is the right fit for you. According to another survey, 66% of companies allow remote work, while 16% are fully remote. So, there's no reason why you shouldn't ask.
According to TalentLMS, 90% of remote workers say they get more work done when working remotely. You might be one of them.
2. Use these tools
The TalentLMS team asked respondents about the apps they use the most when working remotely. As it turned out, at least 52% of the apps remote workers use the most have to do with communication so they can stay in the loop when they aren't in the office.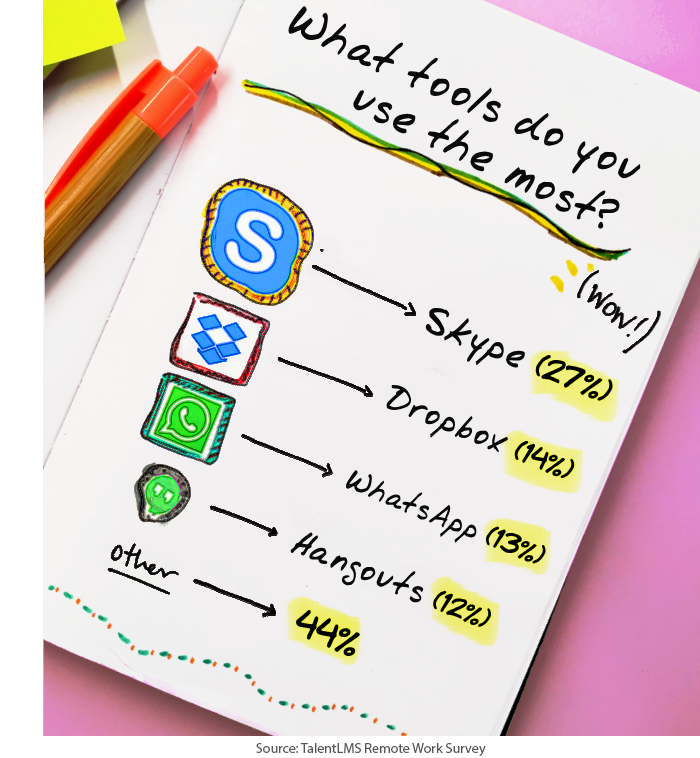 If you're not already familiar with Skype (27% of remote workers use it daily), or WhatsApp (13%) do your homework.
Oh, and as for collaboration tools for remote workers that don't have to do with communication, Dropbox is the most popular, with 14% of respondents picking it.
3. Listen to these sounds
Let's be honest. Sometimes, you might not feel like working. It happens to everyone. An easy trick to boost your productivity while working on a computer and looking at a screen is to …play by ear.
Twenty-five percent of remote workers boost their productivity by working with their TV or radio on to listen to conversations and feel like they're in an actual workplace. Twenty-one percent work in silence; another 21% have some meditative music on; 17% listen to loud music, and only 11% listen to ambient, new-age sounds.
So, test what works best for you.
4. Work on these skills
Not everybody is suited to be a remote worker. Sorry, but it's true. To increase your chances of succeeding in an industry with so many professionals, there are some skills you need to master.
These 450 remote workers provided a list of traits that can also be developed as skills. Most of them have to do with the way people work and not about on-the-job skills per se.
Work on your time-management, organization, and self-discipline. They make sense, right? You need to create your own schedule and stick to it. But there's an extra skill you need to work on: Communication.
Work on your written communication skills to develop a good sense of how you should chat with your co-workers when you're not engaging in an actual meeting, but everything happens on Slack or Skype.
It's vital.
Summing it up
Working remotely is not an easy task. Sure, some parts of it make it more appealing to the professional who spends too much time commuting or doesn't always feel like interacting with people in the workplace.
But I want you to think about your first day at work. Any work. Inevitably, some time must have gone by before you got the handle of everything. The same thing happens with remote work.
And, by following these tips, you will. Faster.