For the past few years, I've written an annual summer post about the books I'm reading. This summer however, nearly all of my free time was spent working on the final edits for my upcoming book, Becoming a Dangerous Woman, due out October 8.
So, with equal parts relief and trepidation that the book is finally (!) off to the printing press, I wanted to write a quick blog post highlighting some of the books (and movies, podcasts and gatherings) that I'm excited about reading, watching and visiting this fall.
I've been attending the Omega Institute's Women & Power Conference for many years. I've always found this annual retreat dedicated to the call to "do power differently" to be restorative, rejuvenating and motivating — all at the same time!
This year, I expect nothing less. The theme is "Gather Your Strength" and I'll be speaking at the conference, along with so many incredible women that I admire and respect, including former TED and TEDWomen speakers Tarana Burke, Roxane Gay, Elizabeth Lesser and T. Morgan Dixon.
Please join us! You can find out more at the Omega Institute website. The Women & Power Conference is Sept. 27-29, 2019, in Rhinebeck, NY.
BOOKS
Several TEDWomen alumni have new books out this year, including Naomi Klein, Eve Ensler and Monique Morris, among others. Here's a quick preview of the books I'm looking forward to reading (or recommend you read) this fall.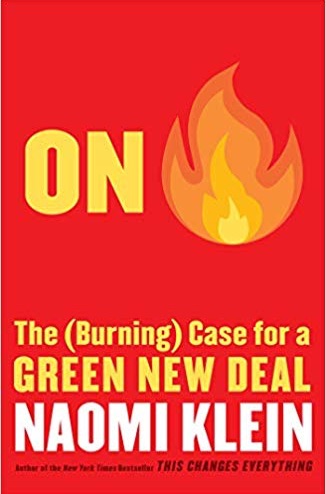 Canadian activist, author and filmmaker Naomi Klein has been chronicling the exploitation of people and our planet for nearly two decades. This month, her new collection of essays, On Fire, pulls together a decade's worth of her writing from the "frontline of climate breakdown and pairs it with new material on the staggeringly high stakes of what we choose to do next." Klein, the inaugural Gloria Steinem Endowed Chair in Media, Culture, and Feminist Studies at Rutgers University, continues to inspire, inform and incite action against climate change.
The Apology by Eve Ensler is one of the books that I read as soon as I received it and it's amazing. Like millions of women, Eve has been waiting much of her lifetime for an apology. Sexually and physically abused by her father, she has struggled her whole life from this betrayal, longing for an honest reckoning from a man who is long dead. After years of work as an anti-violence activist, she decided she would wait no longer; an apology could be imagined, by her, for her, to her.
Life changing… You won't be the same person when you finish this book.

Pat Mitchell
Written by Eve from her father's point of view in the words she longed to hear, The Apology is on the bestseller list for good reasons and is creating an entirely new and important global conversation about why apologies matter so deeply.
Monique Morris's new book, Sing a Rhythm, Dance a Blues: Education for the Liberation of Black and Brown Girls, is a passionate manifesto that builds on her previous book, Pushout, reimagining what schools could do for girls if educators focused more on supporting and encouraging black and brown girls to flourish.
In The Book of Gutsy Women, Hillary Rodham Clinton and her daughter, Chelsea, share the stories of the gutsy women who have inspired them — women with the courage to stand up to the status quo, ask hard questions, and get the job done. Growing up, Clinton says that she knew hardly any women who worked outside the home. She'd heard that Amelia Earhart "kept a scrapbook with newspaper articles about successful women in male-dominated jobs," so she started a scrapbook of her own. "Long after I stopped clipping articles, I continued to seek out stories of women who seemed to be redefining what was possible," Clinton says.
Two new nonfiction books out this fall feature women that we don't often hear from. They explore the lives of Arab women, one from the perspective of Arab women journalists and one that delves into the experiences and lives of women who joined (and in some cases, escaped) ISIS. In Christiane Amanpour's introduction to Our Women on the Ground, a collection of essays by Arab women reporting from the Arab world, she writes, "To become a journalist in some of these places takes a special kind of courage for a woman… But women's voices are crucial to gaining a full understanding of the story." I couldn't agree more.
In Guest House for Young Widows, journalist and Pulitzer Prize-finalist Azadeh Moaveni writes that in the histories of past conflicts in the Middle East, "you can pick up books on any of these conflicts, rifle through the index, and not find a single woman." Part of that was that their roles were indirect; they were there behind the scenes as wives, mothers and morale boosters. All that changed in the last decade as women became active participants in movements across North Africa and the Middle East. Many women played central roles in the Arab Spring while others chose to work with ISIS, and although it's nearly impossible to empathize with them, reading their stories is a way, as Christiane noted above, to better understand the whole story.
When more women (and girls!) step up and speak out, powerful things can happen. In Leading the Way, journalist, author and activist Marianne Schnall shares the most insightful and thought-provoking reflections from her interviews with remarkable public figures, including Amy Poehler, Kerry Washington, Maya Angelou, Ana Navarro and Billie Jean King, to illuminate how every woman can rise up and become the change-enacting leader she was born to be. Leading the Way comes out later this month. And in October, Marianne's book for girls, Dare to Be You, a collection of eye-opening and inspirational wisdom for girls from some of today's most influential women, offering insights on being true to yourself, finding your voice, overcoming obstacles, and making a difference in the world.
You can order or pre-order all of these books at the links on their titles.
Podcasts
The brilliant and amazing Kimberle Crenshaw is working on a new book, On Intersectionality: Essential Writings, which won't be published until September of next year, but in the meantime I encourage you all to subscribe to her amazing podcast, Intersectionality Matters! It's the podcast that brings intersectionality to life.
Another podcast I'm a huge fan of is Mothers of Invention, hosted by (two TEDWomen speakers) Mary Robinson and Maeve Higgins. They've just wrapped their second season. Each episode features women offering powerful solutions to climate change – from the grassroots to the courtroom, the front lines to the boardroom – all over the world.
Lastly, if you've not already listened to The Aspen Institute's The Bridge podcast, hosted by my friend Peggy Clark, you'll want to subscribe to it right now. The podcast invites women of different generations to participate in meaningful conversations. Recent episodes included a conversation between UN Women's Executive Director Phumzile Mlambo-Ngcuka and Dr. Alaa Murabit about women's activism and Dr. Agnes Binagwaho on the importance of women's leadership in improving health care for everyone. (Full disclosure: I talked with my good friend Courtney Martin in one of the very first episodes.)
Movies and Docs
There are so many great new movies coming out in the next few months that it's hard to choose just a few, but here are some that I've seen or will be seeing this fall.
Out now and available on iTunes is This Changes Everything, a new documentary executive produced by Geena Davis, that "explores the historical underrepresentation and misrepresentation of women in the entertainment industry" using research from the Geena Davis Institute, stories from discrimination lawsuits, and interviews with Geena, Meryl Streep, Reese Witherspoon, Shonda Rhimes and others.
One of the films that made an impact on me at Sundance this year was the documentary, American Factory, now available on Netflix. The film, directed by Julia Reichert and Steven Bognar, won the directing award for a US documentary. It's also the first film backed by Higher Ground, the Obama's production company, in partnership with Netflix and Participant Media, on whose board I serve.

In 2014, a Chinese billionaire opened a Fuyao factory in a shuttered General Motors plant in Dayton, Ohio. For thousands of locals, the arrival of this multinational car-glass manufacturer meant regaining their jobs — and dignity — after the recession left them high and dry. American Factory takes us inside the facility to observe what happens when workers from profoundly different cultures collide.

Later this month, I'm excited to get a sneak preview of the upcoming biopic from Julie Taymor adapted from Gloria Steinem's autobiography, The Glorias: A Life On The Road. It stars Julianne Moore, Alicia Vikander and Timothy Hutton. I'm not sure when it is going to be released, but the anticipation and expectations for this film are high and so they should be!
Beyond that I'm looking forward to Downton Abbey,Harriet, A Beautiful Day in the Neighborhood, the film about one of the most wonderful people I ever had the privilege to know and work with, Fred Rogers, Little Women, and Clemency— winner of the 2019 Sundance Grand Jury award by director to watch Chinonye Chukwu.
The challenge will be finding the time this fall to do all this important reading and viewing — especially for me, given the launch of my book and preparation for TEDWomen— but I'm determined to set aside the time because these books, films and stories are too good to miss.

Onwards!

— Pat