I had a great time earlier this summer delivering my Get Known, Get Connected, Get Ahead talk to development officers from over 100 universities. In the middle of the program, I share the types of relationships we want and need. Without exception, when I mention mentors, it results in a plethora of welcome questions.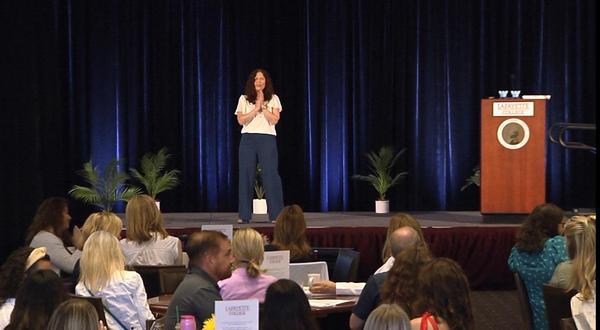 It seems everybody is in search of a mentor. Makes sense since you are 70% more likely to get promoted when you have an active mentorship relationship. Mentorship is a key factor in professional development, relationship building and career advancement.
Ever think about the other side of the mentor equation? I don't usually get a lot of questions on how to find a mentee or how to be a good mentor. That's why I was so excited when Newsweek posed that question to me… How can successful leaders mentor young talent?
A great twist on the frequently asked, How, as a young professional, can I get a mentor? Let's look at both.
There are many different roles leaders can have in bringing others up. The book Strength to Strength explains that our fluid knowledge curve, (the ability to process new information, learn, and solve problems) starts to wane in midlife. Just as our crystallized knowledge curve, (the ability to draw upon accumulated knowledge to solve a problem), is spiking high.
It is that accumulated and crystallized intelligence that puts us in a position to be able to teach and share our wisdom. That's the whole idea around The Mentor Project, an organization for people who have reached the pinnacle of success in their fields are seeking ways to get back.
There's lots of ideas in the Newsweek article about how to be a mentor, I shared three specific roles leaders can take on. But I don't want to forget about those that are seeking mentors.
For those wishing for mentorship, what I want you to recognize is that you've already had what I call mentor moments in your life.
Mentor moments are times when you were given guidance or advice and their words stayed with you and influenced your actions.
Mentors don't need to be formal, official, or sign on the dotted line type of relationships. Put yourself in the proximity of people that you view as a mentor, that can advise you on some aspect of something that you're working on growing, building, or developing in your life. You don't even have to tell them that they are a mentor to you. Just see how you can continue to observe, appreciate, and learn.
If you have a great mentor in your life, whether they know it or not, shout them out!
You can read the entire article on Newsweek here.