Last month, I wrote a preview of the Connected Women Leaders (CWL) Forum that Ronda Carnegie and I convened in April at the Rockefeller Foundation's Bellagio conference center on Lake Como. The purpose of the CWL Forum was to connect women leaders from the frontlines of government, culture, media, the arts, business and civil society from around the world to shape a global agenda for women in 2020.
With support from the Rockefeller Foundation and participation from some of the foundation's women leaders, our four days on Lake Como flew by with early morning to evening presentations and discussions on five keys areas, identified by their alignment with the UN SDG's (Sustainable Development Goals): climate justice; education, training and leveraging the power of marginalized communities; global health, with a special emphasis on women's health services; economic equity; and addressing the global epidemic of violence against women and girls.
Dr. Alaa Murabit leading a session.

Meagan Fallone leading a breakout session.

(l-r) Laura Flanders, Peggy Clark, Dr. Agnes Binagwaho, Phumzile Mlambo-Ngcuka and Pat Mitchell.

Marcela Escobari leading breakout session on economic equality and opportunity.
All of our deliberations underscored the transformative link between reversing climate change and improving the educational and economic opportunity, human security, and health and wellbeing of women and girls. All of these issues are critically interconnected.
---
Women are especially vulnerable to the negative impacts of climate change — 80 percent of people displaced by climate change are women — making it all the more imperative that women take up leadership to keep climate justice front and center in all of our work.
Connecting women leaders is crucial.
Mary Robinson, the former president of Ireland, former UN High Commissioner for Human Rights and Special Climate Envoy, and current co-host of the Mothers of Invention podcast, reminded us that women need to be strong advocates in every room where decisions are made.
"I actually believe that women's leadership is the most vital component of the movement we have to create," she told us in a special live taping of "The Laura Flanders Show" podcast filmed at the forum.
"Women's leadership says everybody needs to have their voice heard, even others outside the room, and that we need solidarity to achieve [change]… I want to see women's leadership globally become connected in a way that we haven't seen before."
Dr. Katharine Wilkinson, who made the connection between climate justice and gender equality in the seminal book, DRAWDOWN, shared specific examples of actions that both draw down carbon emissions and further empower women and girls at the same time.
Led by Katharine, Mary, and Jess Search (Doc Society), as well as other participants, the Connected Women Leaders committed to taking an important step forward together: to evolve a Declaration of Climate Justice to be signed by women leaders everywhere. CWL will be seeking further input on the declaration as well as additional signatories in special convenings throughout the next few months, including the TEDSummit in Edinburgh and the UN Climate Summit in NY.
Empowering women changemakers in their communities.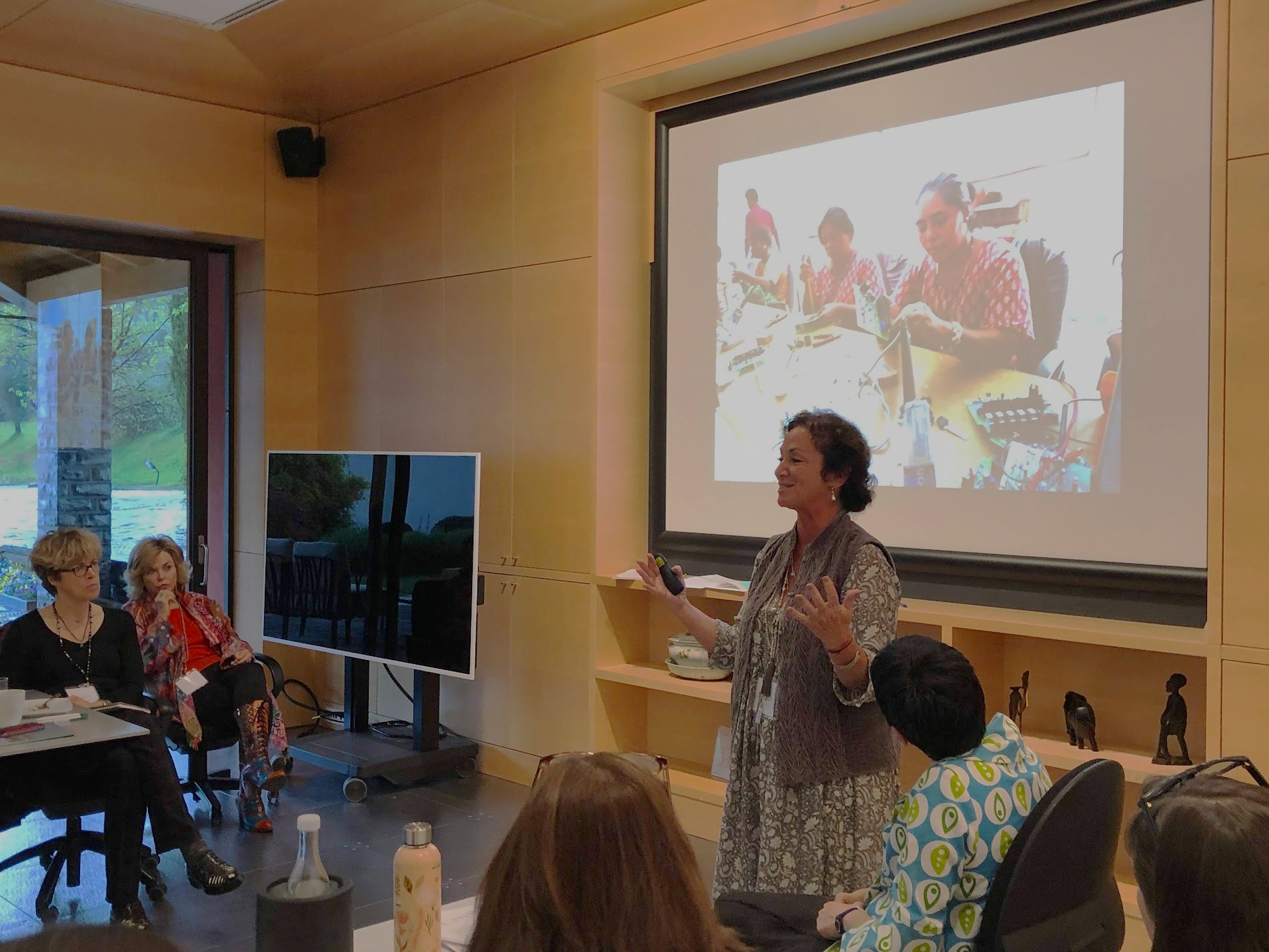 Other CWL sessions included updates from Meagan Fallone, CEO of Barefoot College International (BCI), who was also part of the first women's leadership forum at Bellagio in 2017. Meagan shared video of the BCI training programs that have graduated more than 3,000 women solar engineers (Solar Mamas) lighting up villages in more than 90 countries.
"Many of these women are raised to believe that they are not worth the resources it would take to educate them," says Meagan. "Becoming a Solar Mama allows women to realize their potential. They become leaders and agents of change in their communities, and their communities experience firsthand the benefits of empowering women."
Advancing gender equity in health care.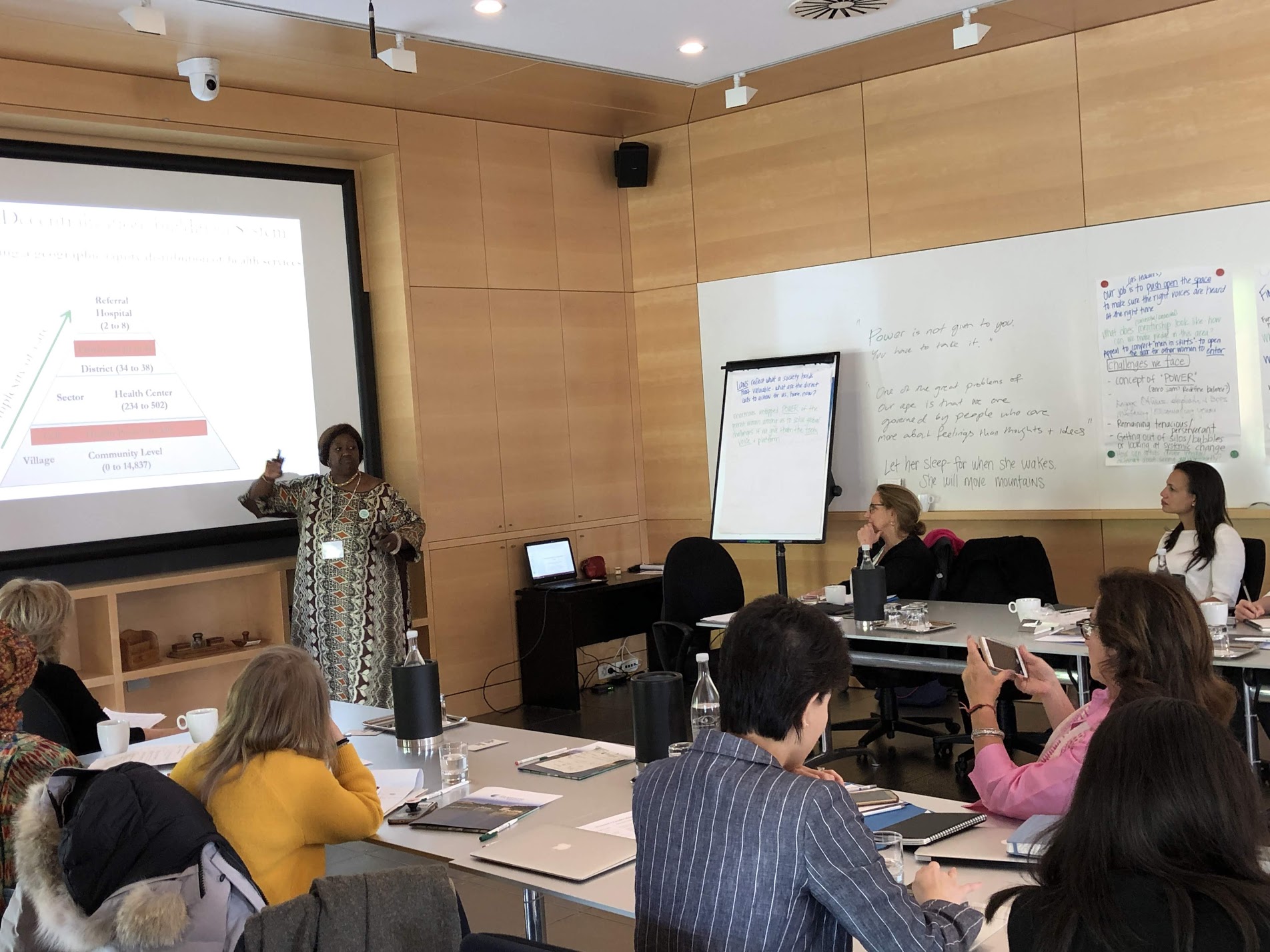 Access to family planning and reliable health care is central to women's empowerment, reducing poverty and achieving sustainable development. Dr. Agnes Binagwaho, vice chancellor of the University of Global Health Equity in Rwanda, talked about the many challenges to delivering equitable health solutions and critical services for women and girls around the globe, including the growing threats worldwide to reproductive rights. Many of the Connected Women Forum leaders will be participating in the Women Leaders in Global Health conference in Rwanda in November, convened by Dr. Agnes and next month, we will be both be continuing this conversation at the Aspen Ideas: Health conference.
Focus on developing the skills of new women leaders.
Yang Lan, China's most well-known and well-respected media personality and Her Village Academy founder, shared insights on the training she is offering women in China's huge rural population as well as on the growing entrepreneurial community of women in China and throughout Asia.
She urged us to keep a global focus on leadership development. "There are far fewer women [in Asia] who work as middle or senior executives in companies. An equal social environment is important, but we can't ignore women's self-improvement if we want to change this."
Preventing violent extremism.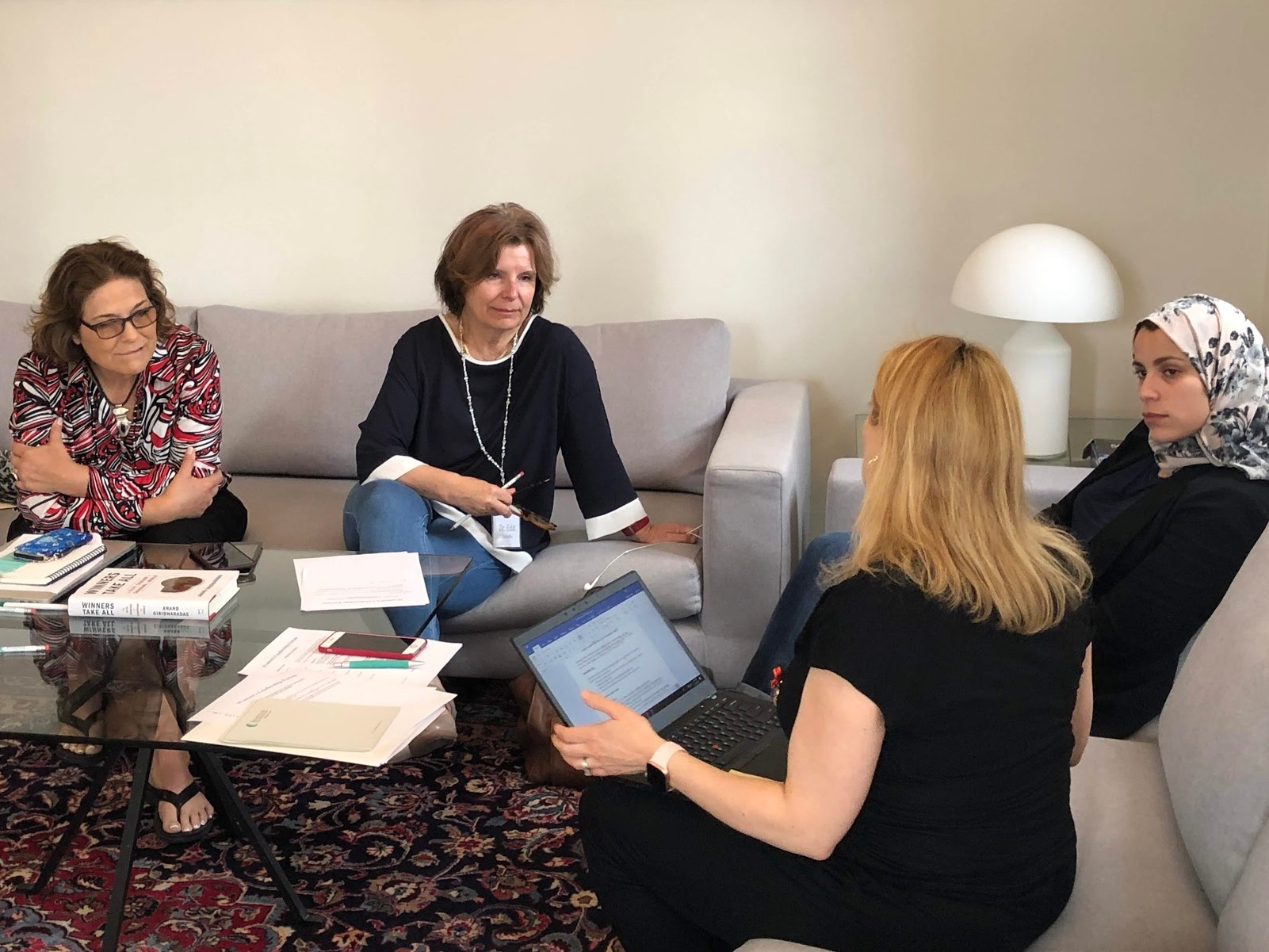 Understanding the complex relationships between women, gender and violent extremism is critical to prevention efforts. We know that countries are more peaceful and prosperous when women are accorded full and equal rights and opportunity. Dr. Edit Schlaffer, founder and chair of Women Without Borders, shared some of her work, which focuses on mothers as agents of change in preventing the spread of violent extremism and as driving forces to stabilize an insecure world. The MotherSchools program advances mothers' understanding of the early warning signs of recruitment, deepens their sense of responsibility to safeguard their children and empowers them to break their silence and discuss extremism at home.
Coming together and pledging to take action together — as we did in Bellagio — demonstrates once again that women's conferences and forums have positive outcomes that go beyond the actual convening. Jude Kelly, founder of the Women of the World forums (WOW Festivals) — among the largest gatherings of women in more than 30 countries — led a discussion about how to leverage our constituencies and communities to activate solutions.
Omega Institute's Carla Goldstein led us in reflections following each session that centered bodies and minds, and I am honored to be a speaker at Omega's 2019 Women and Power Conference, one of the more inspiring gatherings of changemakers and leaders.
Powerful content for connected women.
Other presentations included a preview of Rockefeller Foundation's Solvable Initiative which launched officially last week. Led by Rockefeller Vice President of Global Policy and Advocacy Christine Heenan, the initiative promotes identifying and generating support for specific solutions to global challenges across the board, from achieving gender equality in the workplace to establishing sustainable immunization programs in the places that need them most to redistributing food and addressing hunger in the US.
At this year's CWL, we recorded several podcast conversations in order to share some big ideas from our attendees with women everywhere. The Aspen Institute's Peggy Clark recorded two interviews for "The Bridge" audio podcast (which if you don't know about, you should!). "The Bridge" pairs wise women from different generations together in important conversation about what matters most.
The first Bridge conversation featured United Nations Under-Secretary General and Executive Director of UN Women Phumzile Mlambo-Ngcuka and UN Emerging Leaders Lab founder Dr. Alaa Murabit, and the second recording featured Perception Instititute's Alexis McGill Johnson and founder and managing director of Sahel Consulting Agriculture and Nutrition, Ndidi Okonkwo Nwuneli. These episodes will be released in July and September 2019. And as I mentioned earlier, Laura Flanders also interviewed Mary Robinson for her video podcast, "The Laura Flanders Show." (watch above)
Beijing+25 forum and the rights of women.
Finally, we brainstormed with the UN Women team about how we could support the planning for the upcoming Beijing+25 forum to be held in March 2020 in Paris. Interestingly, some of the younger leaders among us had little knowledge or understanding about the importance of the 1995 Beijing Conference on Women. It brought about the first global agreement on the rights of women — famously articulated by the keynote speaker, Hillary Clinton (FLOTUS at the time), who declared, "Women's rights are human rights!" Sustaining and strengthening a global consensus on policies necessary to secure full human rights for all women is the purpose of Beijing+25, assessing where we stand now as a global community of women and where we want to be.
---
All in all, the Bellagio forum was an extraordinary experience — more evidence, in my opinion, that when we come together, listen and learn from each other, make connections and commit to actionable solutions, women leaders are the transformative force for positive change needed now more than ever.
Our hope is that more women leaders will join us by: listening to the podcasts we produced, signing the Declaration of Climate Justice that we're developing [coming soon], and engaging with us on social media by subscribing to the CWL Twitter list and following me on Twitter.
Forward this blog post to women leaders you are connected with and let's get this movement started.
As Mary Robinson observed at our convening, "We have many women leaders. We have many networks." But the potential for what we can achieve if we all work together is "something we haven't seen yet."
Let's make it happen. Together.
— Pat