In an interview with Good Morning America, Michelle Obama discussed her relationship with Barack Obama.
She told GMA's Robin Roberts that marriage counseling helped the couple sort out their differences and prioritize their happiness.
Relationship expert Eli Finkel says looking for bits of happiness outside of your marriage, like the former first lady did, can make your relationship stronger.
From the outside Michelle and Barack Obama's marriage appears virtually perfect. But in a recent interview with Good Morning America's Robin Roberts, the former FLOTUS revealed her marriage requires plenty of work, and that she and Barack have gone to couple's counseling to bolster their relationship.
"I know too many young couples who struggle and think somehow, there's something wrong with them" Obama told Roberts. "I want them to know that Michelle and Barack Obama — who have a phenomenal marriage and who love each other — we work on our marriage and we get help with our marriage when we need it."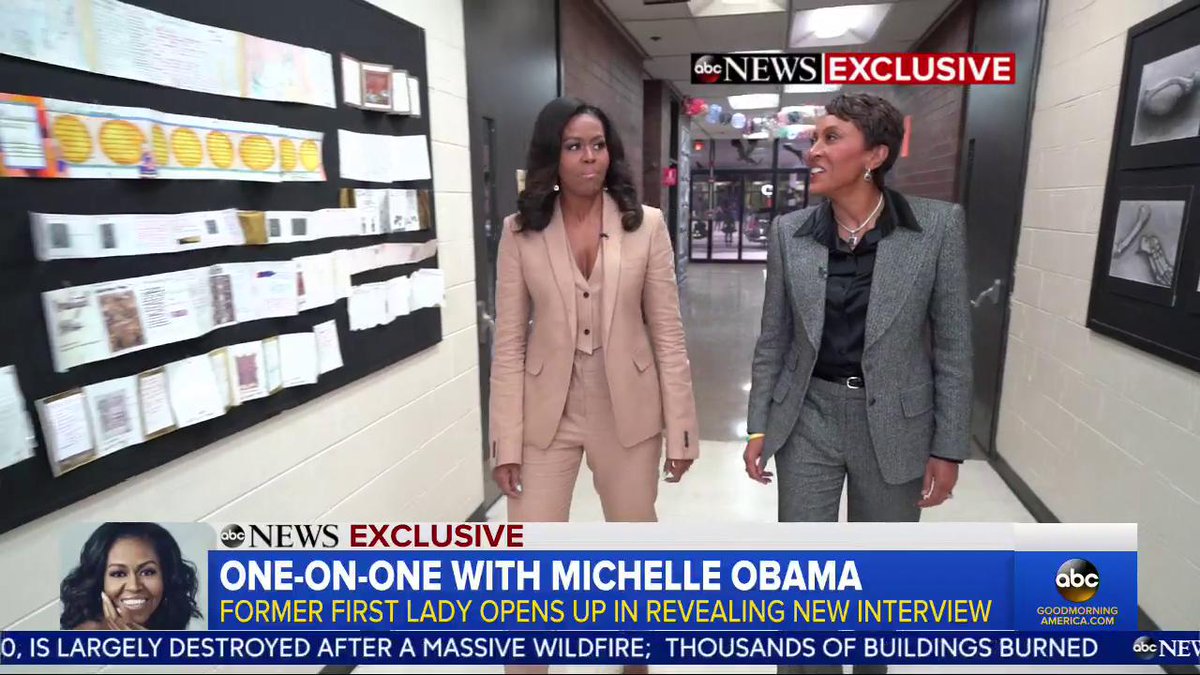 .@MichelleObama opens up to @RobinRoberts in revealing new interview; says she felt "lost and alone" after suffering miscarriage 20 years ago. Watch @ABC special covering her journey to motherhood and more from her memoir, "Becoming," Sunday night 9/8c. http://gma.abc/2FdWIHm
746 people are talking about thisTwitter Ads info and privacy
Obama explained that marriage counseling helped the couple talk through their differences and learn that her happiness was her own responsibility. With those realizations, Obama says she "started working out more, I started asking for help, not just from him but from other people."
In a previous interview with INSIDER, Eli Finkel, a relationship expert and author of "The All-or-Nothing Marriage," suggested finding friends or co-workers to satisfy areas of life where your marriage may fall short.
"If you find yourself chronically disappointed in one element of your marriage, or in a subset of elements of your marriage, one of the really good ways of dealing with that is to think about: Is it really essential that I try to meet this need in particular through the marriage?" Finkel said.
For example, if you love to play tennis but your partner isn't interested, ask yourself whether you can enjoy tennis with a friend rather than getting into an argument or coercing your partner into doing an activity they don't like.
The former first lady also discussed her experience having a miscarriageand using in-vitro fertilization to concieve her daughters Malia and Sasha Obama. In her forthcoming memoir "Becoming," Obama details these life experiences and more, including her childhood in Chicago and her career as a lawyer. The book goes on sale November 13.
Originally published on Business Insider. 
More from Business Insider:
WayUp CEO and cofounder LIz Wessel always knew she wanted to be an entrepreneur.
A CEO and former Googler shares 2 tricks for cold emailing anyone
12 highly influential people share the morning routines that set them up for success
Follow us here and subscribe here for all the latest news on how you can keep Thriving.
Stay up to date or catch-up on all our podcasts with Arianna Huffington here.