As we enter the holiday season and start by celebrating Thanksgiving, it's the perfect time to focus on gratitude. Taking a moment to appreciate small things we often take for granted — a hug, a delicious dinner, or a walk with the dog — can give us an immediate boost, lifting our mood so we feel more cheerful. And science shows that being thankful on a regular basis can actually lower stress, improve our well-being and help us to become more resilient.
At Thrive, we have hundreds of Microsteps in our behavior change platform, but my favorite is a simple one: write down three things you're grateful for. And consider taking it a step further by sharing your gratitude with your family and friends. It's infectious, as I've discovered myself.
I'm part of a big, close-knit Croatian family and I recently hosted my sister and our six cousins at my home in Dallas. We had a fantastic weekend, and the eight of us made a commitment to starting a new tradition: getting together every year. We also committed to sharing three things we are thankful for in our group text message, a daily ritual that's bringing me unexpected amounts of joy. Today, I'm grateful for my husband, Chris; our pup, Bash, and Taylor Swift's new album that I can't stop listening to.
And I'm deeply grateful for my job at Thrive Global. Here are a few inspiring posts from members of our Thrive Challenge community, sharing what they're grateful for.

1. Clare Creegan, Supercenter #5823; Dallas, TX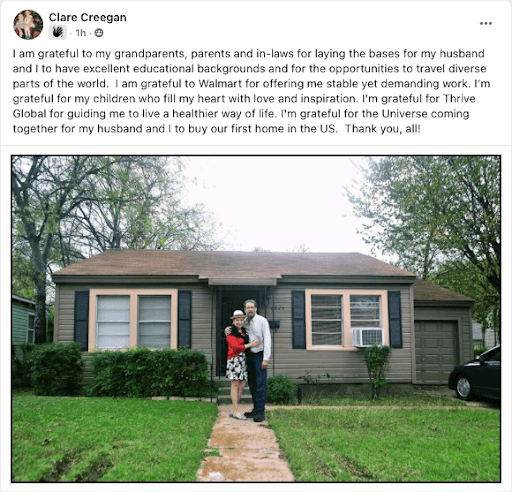 2. Alisa J. Tiller, Walmart Customer, Spring Valley, CA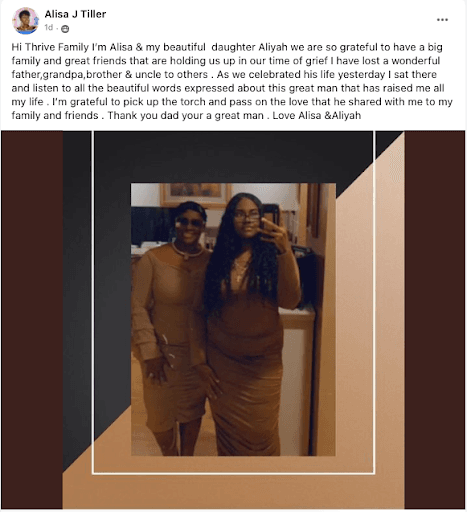 3. Emylyn Medina, Supercenter #2371, Wallingford, CT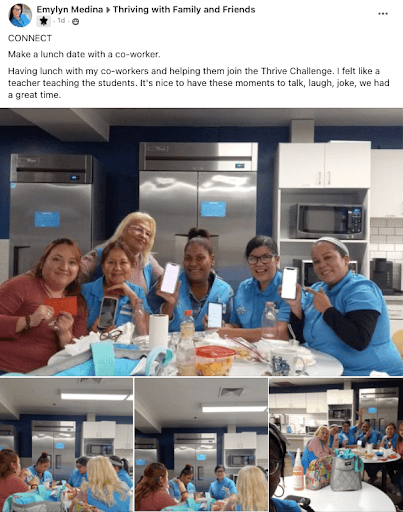 4. Dallas Phillips, Walmart Supercenter #3474; Bradenton, FL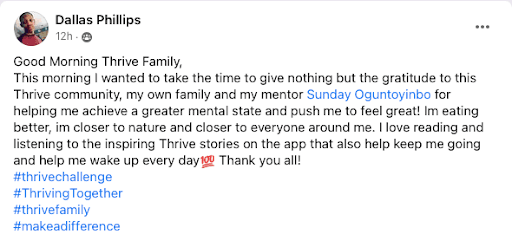 5. Sherin Thomas,Thrive Challenge Grand Champ 2021, Walmart Store #2326; Hornell, NY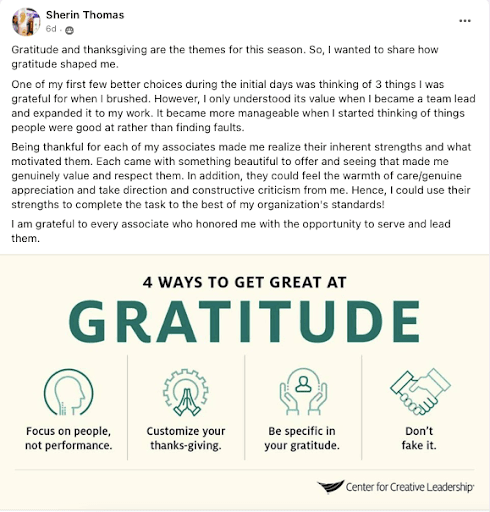 Finally in the words of Donna Morris, Executive Vice President, Chief People Officer at Walmart, "this is a great time to pause, reflect and appreciate fellow teammates around you who are making a difference."