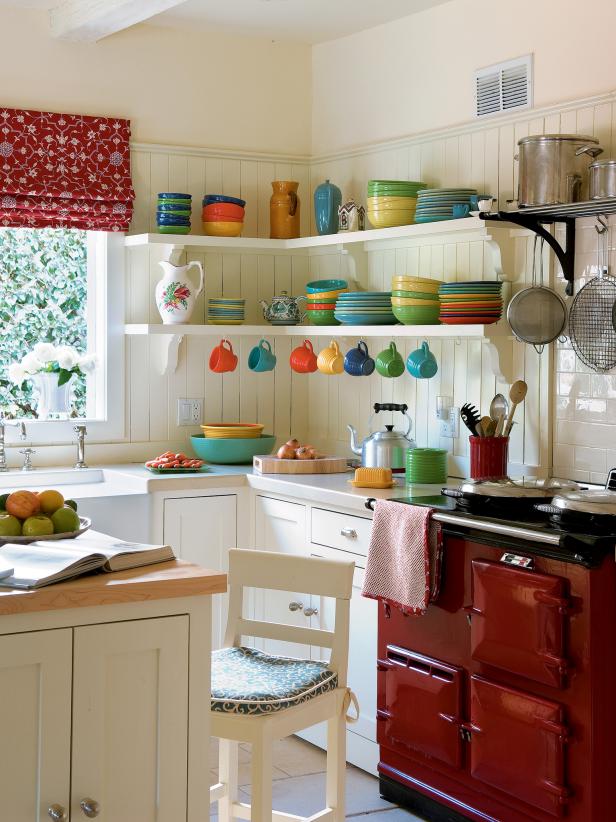 Every home has a cooking area that is called the kitchen. Whether it's a mansion, a single room or a bedsitter, there is that area that is set aside for cooking, storing food and utensils. It does not matter the size of your kitchen you can turn it into the most attractive place in your house. You can turn it into a place that makes your mouth water even before you start cooking. This article takes a look at how you can organize that small kitchen. Everyone is not privileged to begin their lives in a big mansion with a fully equipped kitchen so down there where you start, that little kitchen, how do you make it enticing? How do you turn it into an organized, functional space? Below are super simple tips on how to do just that.
1. De-clutter your Kitchen
Most people will use the excuse of a small area to keep their kitchens untidy. This does not have to be the case. Take a tour of your kitchen and remove all that you don't need. For example, pans, plates, cups, knives, and any other equipment that you do not use frequently. Give them away or even sell. Purchase things that you need, not the items you want. Some also buy stuff just because they want to be like others truth is they have no idea how to operate them. This turns your kitchen into a mess and in the end, challenging to organize your life. If you have decluttered and you still feel that your kitchen is full take this next step.
2. Create Wall Storage
Wall storage can be in terms of building shelves or mounting tools for your cooking pots, baskets, and other cooking utensils just like it's done in big restaurants. You can use wood to make shelves where you can store your food and spice jars. Wood bars that have hooks to hold the baskets and tools. You can also use pegboards and magnets. The magnets can be perfect storage for knives. After creating these wall storage units, your kitchen will feel spacious.
3. Furniture
You have decluttered, built extra storage space on your walls now its time to ensure that you are comfortable in your kitchen. You agree that you cannot spend the whole time in the kitchen standing. You need furniture in there. If this furniture is not well arranged, then you and your family are prone to accidents in there. So how do you ensure that these accidents don't occur? Use furniture that is easily folded or stored away after use. For example, use stools that can easily tack away, roll out kitchen cabinets, and drop-down or wall mounted chopping boards and tables.
4. Let There Be Light
You cannot work in a dark environment. The same is right in the kitchen. The kitchen must be the brightest room in the house because of the very crucial equipment and activities that take place there. How do you achieve these standards? By use of Bright paint colors on your kitchen walls and cabinets. This not only lightens that room, but it also makes it look bigger than usual. Make use of lead lights that illuminate the shelves and cabinets. Replace the kitchen bulbs, and you won't believe the magic a mirror on your kitchen wall can do. The reflection of light that it causes gives your kitchen a spectacular view.
5. Other Ideas
You have drop-down chopping boards and tables, wall mounted storage equipment, but here are a few other ideas that can work for you. You can create more counter space by use of the counter cooktop as a rolling counter for your pastries or butcher block. Alternatively, you can put a board on top of your sink too to create more counter space. You can also add rags on your kitchen floor to make it comfortable and attractive too.
Finally, you have a decluttered, well organized, and bright kitchen. What is to stop you from enjoying a meal or just your quiet time in there? It's not as hard as most people perceive it to be. And as Louis Parrish said, and I quote," If you can organize your kitchen, you can organize your life." Why don't you decide to organize your life today?