2018 was a great year in terms of entertainment. We were treated to some amazing TV series like the Bodyguard, The Handmaid's Tale, You, The Good Place, Glow, Killing Eye and so much more. But if you thought this was amazing, then you have no idea what's coming. A lot of fan favourite TV series' are releasing this year on Netflix and Amazon Prime. 2019 is definitely going to be the year we binge-watch on exciting series. And, all thanks to the latest Smart televisions, we can watch these series from the comfort of our couch. Which returning series are you excited to watch in 2019? Figuring out some of the best series coming this year is legit not an easy task. So, we have picked some of our favourite Amazon Prime & Netflix series to watch in 2019. So, here are some of the biggest TV series that we are waiting for this year…
Netflix Series to Watch in 2019
With each passing year, Netflix offers us even better and engrossing content. They have everything that you might be looking for. From romantic comedies to suspense thrillers, Netflix has it all. Moreover, with the series being available on all the latest mobile phones and televisions, it is easier to binge-watch your favourite movies and series. However, if you are planning to binge-watch Netflix on your Smart TV, we will remind you that Xiaomi Mi televisions do not support Netflix currently. The service might be available later, but it isn't available currently. Let's take a look at the Netflix series to watch in 2019.
Stranger Things
Season: 3
Release Date: 4th July 2019
Stranger Things is finally coming to Netflix this July. The show guarantees to take you into a whole new world of Demogorgons, Shadow Monsters and crazy scientists. The show has been applauded for its special effects. The third season promises even better effects and adventures, which makes Stanger Things one of those shows even more fun to watch on ultra HD 4K televisions. The last time we saw Eleven and her gang fight monsters was back in 2017. So, we are extremely thrilled to see what adventure the quiet town of Hawkins, Indiana has in store for us this time 'round.
The Crown
Season: 3
Release Date: Not Revealed
The Crown is termed as one of the most expensive series that Netflix has produced till date. The series revolves around the rise of Queen Elizabeth II from princess to monarch with her husband Prince Philip by her side. It is one of the most awaited Netflix series to watch in 2019. In the third season, we will see Olivia Colman take over the role of Queen Elizabeth II which was played by Claire Foy. This new season will also introduce to us Camilla Parker Bowles – Prince Charles' second wife. Anticipation for this new season is at the peak!
Jessica Jones
Season: 3
Release Date: Not Revealed
Do you enjoy watching the superheroes from the Marvel universe? Then you are sure to love Jessica Jones. Currently, Jessica Jones and The Punishes are the only Marvel series available on Netflix. The series has offered a lot of superhero action and dark psychological drama to its fans. Even though season 2 was a little slow, we are expecting season 3 to offer us some gripping content. Furthermore, with Jessica Jones being one of the best-written Marvel characters, we have got to hope, right?
13 Reasons Why
Season: 3
Release Date: Not Revealed
This showed caused a lot of stir and controversy when it had debuted back in 2017. This teen-drama spoke about topics which are a huge taboo across the world. In the season 2 end, we saw Clay come to terms with Hannah Baker's death. The season end was powerful and came across with a lot of strong messages for the young people of the current generation. We will have to wait for the new season to see what new topics are spoken about in this series. Additionally, Austin Burke also has an interesting take on this new series.
The Chilling Adventures of Sabrina
Season: 2
Release Date: 5th April 2019
The first season proved to us that the series is nothing like the one we saw back in 1996 – called Sabrina the Teenage Witch. In fact, the first part of the series showed us that Satan is absolutely real. In the ending of the first season, we saw Sabrina's life take different turns due to certain decisions. Now that Sabrina has signed her name in the 'book of the beasts' will she forget the human world of her friends? Well, we will have to wait until April to find out!
Amazon Prime Series to Watch in 2019
Just like Netflix, even Amazon adds a lot of interesting and fresh content on its platform every month. In 2018, Amazon Prime provided its users with quite a lot of high-rated TV shows. This year is also going to be an interesting one for the channel. You can access this platform through your smartphone or through an Android television. Here are some of the Amazon Prime series you should definitely watch in 2019.
Good Omens
Season: 1
Release Date: Spring 2019
Neil Gaiman's novel – Good Omen is finally coming to life this Spring. The series will arrive on Amazon Prime in six parts. What's the story about? Well, the world is going to come to an end. And a fussy angel and a loose-living demon who live on earth, team up together to stop this apocalyptic event. Will they be able to sabotage the Armageddon? To this, we will have to wait for this series to finally release on Amazon. Looking at the amazing star cast of Michael Sheen, Jon Hamm and David Tennant – it is safe to say that this series will offer a lot of adventure, comedy and action.
American Gods
Season: 2
Release Date: March 11
American Gods by Neil Gaiman is another book which was made into a series in April 2017. In March 2019, this show is returning on Amazon Prime for its second season. After major production delays, we are all ready for this show to return. The show is based on the concept of the American immigrants who brought their gods along with them. Not just the characters, even people watching this show have their faith tested by this fantasy series. If you haven't watched season 1 yet, it's time you do. And if you have doubts about watching the series, this spoiler-free review by Seasoned Reviews will help.
Vikings
Season: 6
Release Date: Not Revealed
The cult history drama is returning for its sixth round this year. The die-hard fans of this series will be disappointed to know that this might be the last season of Vikings. As of now, the plot details are being kept heavily under wraps and not much is known for now. However, season 6 will pick up from the events of the second half of the fifth season. A lot of fan theories believe that Lagertha will be killed off in season 6. The shock of that happening is unbelievable. There's only one way to find out if this theory is true – for the season 6 to air.
Marvelous Mrs Maisel
Season: 3
Release Date: Winter 2019
This American web series became an instant hit and also won the Primetime Emmy Award for Outstanding Comedy series. So ladies, if you haven't watched it yet, you definitely should! The series has it all. If you are looking for a good laugh, then this series will not disappoint. From an elegant upper west side New Yorker to an international stand-up comedy artist, we have been invested in Midge's meteoric rise. We only hope we get the season 3 a little bit sooner!
Hanna
Season: 1
Release Date: March 2019
In this coming-to-age thrilling drama, we will follow the story of Hanna who is a young girl with extraordinary skills being raised in the forest. Hanna tries to dodge the relentless pursuit of an off-book CIA agent and tries to unearth the truth behind who she is. The story sounds super interesting so far. Will the series stand up to our expectations? We will only find out in March.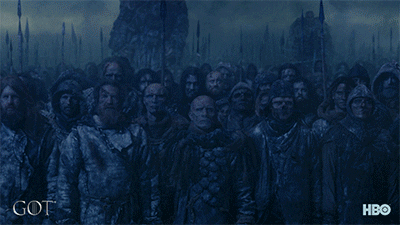 Gif Source: Giphy
If we are talking about the upcoming Amazon Prime and Netflix series to watch in 2019, it would not be fair to not mention one of the most awaited series of all time. Yes, Game of Thrones season 8 returns this April this season. We fans are super excited to watch the end game play out. Who will sit on the throne? Will Jon defeat the white walkers? How many other characters will die? Well, we have no other choice but to wait to have our questions answered.
Source: https://www.pricekart.com/blog/amazon-prime-netflix-series-to-watch-in-2019