---
In my interview series with leaders making an impact, I had the opportunity to interview Brian Blackburn, COO of Score Shuttle
---
If you could give a shout out to one person who's truly positively impacted your career, who would it be and why?
That is a tough question to narrow it down to one but if I had to, I'd have to say my owner and good friend Anthony. He gave me the opportunity to work with him for the last 16 years and start different types of companies. He is strategic and is always looking five to ten years down the road. As you know, when you're running a business there's always going to be hard times and even in the hard times, he always keeps that smile on his face. That inner confidence really exudes through to me and our team. I'd also have to shout out my mom and dad.
Can you tell us a little bit about what company culture means to you and what that looks like at Score Shuttle?
It gets thrown out there a lot and everyone has their different definitions and I think it is the personality, vibe and the energy of the office.
I have three daughters and a wife, and I spend more time with my people here than I do unfortunately with my family. I want to come into a positive environment with a good energy.
We try to keep a good standard. "Rising tide floats all boats" is a one of my favorite quotes and I really look to see if our environment is fun, if people are smiling, and if there a good work ethic. I think if you get those things, we can check that mark of a pretty good company culture, but there's always room for improvement.
At Score Shuttle you will see a lot of high fives and a lot of shout-outs. We try to give public shout-outs to people in email or at meetings.
Communication is also a big word for me. You want to try to over communicate as much as possible to your people. When leadership is very quiet people tend to think something bad is happening.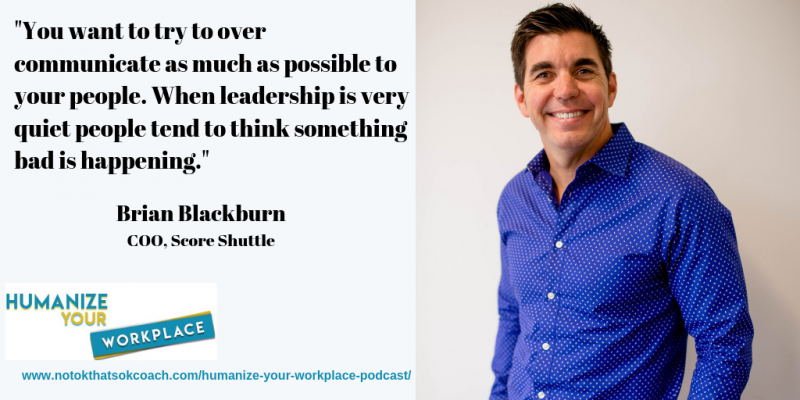 How do you communicate a new initiative or new idea to make things more open within your organization?
It's funny because when I joined up with Anthony, I had a mentor and who told me hardest part of the job is not thinking about the P&L, it's going to be the people. I'll never forget that advice because even though I feel like I'm a decent communicator and good with people, I've gotten constructive feedback at times that I am not as good as I thought.
We try to put things in place that will force you to over communicate. We have weekly five-ten-minute meetings that give me a chance to let everyone know where we're going and if there are challenges. The first Thursday of the month is "Thirsty Thriving Thursday" where we grab a couple of beers and bring the executive team into the office for an open conversation.
What are some small steps that you've taken or experiences that you've had that have gotten your company culture to be in the positive space it is today?
We started a little welcome packet. It's funny I don't use the word "employee," I try to always use the words "team member" because at the end of the day we're partners. The packet has a nice little bottle of wine, a card welcoming them and a book. Right now, I use the "Yes Attitude" book from Jeff Gitomer because we are big on having a positive attitude to the best of our ability.
We also try to have some of our senior people here in the office take them out.
How have you found a balance between someone's skill set and their toxicity at work? Is there a gauge that you use whether you should keep them or they should go?
I base it on experience because looking back I'm always trying to improve. I tell my managers that it's like dating. When you're dating somebody, you're on your best behavior, you're watching your words, taking a shower, and brushing your teeth. You're doing everything to the absolute best of your ability.
I don't care if you make mistakes because we're all human and you're going to make them especially if you're new. But if you're already in month one coming in late, not going 100% with a good attitude and work ethic, it's not a great sign.
The best you're going to get is from a work ethic and an attitude is in those first 30 to 90 days and if you're already lacking there, you should probably just cut your losses early and move on.
How have you moved passed the pride when/if you have hired the wrong person?
My ego is long gone! I really don't have an ego and I'm not scared to make mistakes. I try to have an environment where as long as you're trying and working hard, it's okay to make mistakes. I'll be the first one to tell you I've made many mistakes over the years on hiring the wrong people. I think it's just now accepting that and knowing you did it. But I think the biggest mistake you can make is to close your eyes and they're still there two years later.