In my interview series with leaders making an impact, I had the opportunity to interview Janine Zangrilli. She is the Senior Vice President and Human Resources Director of Republic Bank, a position she has held since 2004. As SVP and HR Director, Zangrilli directs all human resources and learning & development functions for Republic Bank's 28 locations, including its Visionary Leadership Program, mentorship training and employee engagement training. She is responsible for managing over 550 employees.
Prior to Republic Bank, Zangrilli served as an HR consultant for The Javers Group, which provides human resources and benefits outsourcing and services to organizations across a wide spectrum of industries including financial services, healthcare, technology, manufacturing and professional organizations.
Born and raised in Pittsburgh, PA, she holds a B.A. in English and Psychology from Duquesne University and a J.D. from Duquesne Law School.
What does your everyday responsibilities look like as the senior vice president of HR?
My HR department responsibilities go through the core traditional HR functions I think most people would be familiar with. So, making sure people get paid properly. I have a team that takes care of those core responsibilities from benefits administration, recruiting and hiring talent for Republic Bank, handling any employee relations issues as well as our rewards and recognition programs. I also have Learning and Development under my umbrella; so, ensuring that our new team members are as we like to call them "fanatics" at Republic Bank are trained and ready for the responsibilities not only from a technical perspective but from a culture perspective. It runs the gamut and the whole employee lifecycle.
Can you elaborate a little on the word "fanatics?"
We use that phrase because we have a customer experience expectation that we deliver a fanatic experience. For us, the fanatic definition is exceeding our customers expectation every time. We want our employees to identify whether you're working back office or your retail facing and seeing the customer daily.
We want everybody to embrace the idea that it's our responsibility every day to come to work and be fanatic about our culture and our customer experience.
How does your leadership development program train your employees to be "fanatics?"
One of the programs we run is called "Our Vision." Our vision is our cultural embracement visionary class. Every employee whether you're a part-time bank teller or a senior vice president and in the credit department are required to take the this class. That's where they learn about the fanatic culture, we set the tone of expectation and where they learn about our philosophy.
All employees are also trained at headquarters in one of our training rooms called, "The Culture Room" because it is all about culture at the end of the day.
We also have a fun icebreaker scavenger hunt that we do with that class. They have to find somebody who is a motorcycle enthusiast or find somebody who was born outside the Philadelphia footprint. So, they may run into the bank president or they might run into an Operations Clerk. It's a great way to introduce themselves and feel that warmth and that engagement with everyone.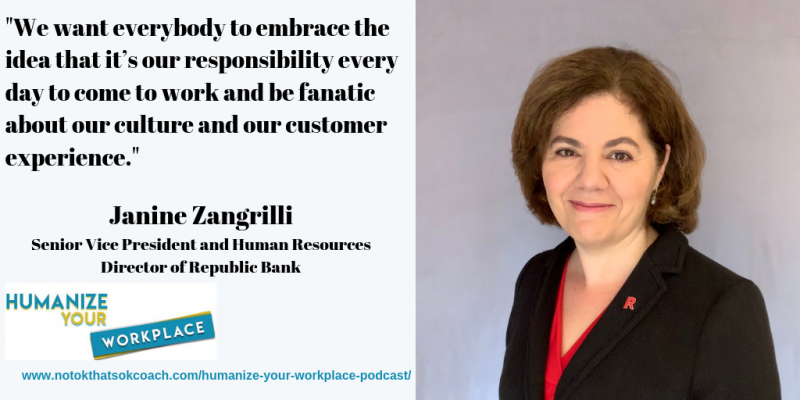 When does this training take place within the employees' lifecycle?
Typically, they're taking it within their first four weeks. So, while we do a good robust hiring program, we really want there to be at least a minimum of 10 to 12 people in an "Our Vision" class so that they've got a good sense of team camaraderie and have a good cross mix of different kinds of employees.
How can an employee at any level of the organization bring value and enhance the culture?
I think employees really need to think about that every day. I think it's important for people to take be self-aware and understand the cultures. The first step in breeding and enhancing the culture is really understanding it. So, while we use "POWER" as our mantra, it's important for employees to understand what it stands for.
Promises are always kept.
One to say yes, two to say no. So, before I tell anyone "no" I am bumping it up and checking in with someone else.
Welcome everyone, make them feel special.
Ease and exceed customer's expectations every time.
Recover the Republic way. We really want to make every wrong, right and we want to identify that it's okay to make mistakes since how we recover from them. So, even that individual contributor who may have made a mistake or may have had a misstep should be able to identify with any one of those principles and be self-aware and self-assess; am I doing this and am I able to commit to this daily and how can I commit to it daily?
We also have an element of our intranet called "The Think Tank" which is a space for everyone to contribute. So, anybody who has an idea about anything that would make the bank, their own experience, or make the customer experience better is encouraged to submit an idea.
My training and development team runs that feature and they assess the requests and then they bump that to the correct leader who would weigh in on that request. And for people whose ideas are embraced and actually executed, they'll win a little gift card and get recognized for having made a contribution that made a change. So, not necessarily every think tank idea gets executed but it's a great way to take a pulse and give everybody that that one voice; you know everybody has a voice.
If you only had 15 minutes a day to get to know the people who work with you, what would you do and why?
I think it's important to remain accessible and be open to those non work-related questions. I'm where the coffee is in our little kitchen area and accessible and willing to engage in open conversations that have nothing to do with work.
I can think about a few weeks back where someone was really excited, newly engaged, sharing information about her wedding plans and venues that she was looking at and she happens to live in the city as do I. It was a great conversation. It was about her excitement and learning more about her family and her desires for these wonderful events in her life. But it was also about learning about new spaces in the city and learning about new venues which was exciting for me as a person who dwells in the city that I hear about these places that I might not have otherwise heard about.
So, it was a really great conversation and it gave me insight into an employee's personal life, and it was a nice way to take a break from that regular routine scheduled feeling that we sometimes can get trapped into it work.
I think people like to see people in a leadership position really take an interest. I think it's important when we talk about humanizing our workplace for everyone to feel human including people who are senior leaders or even our executive leadership. So, we try to make sure that our employees can see that even the bank president or the CEO has a human side and we try to ensure that we get to see that side of everyone through different events different opportunities.