At Thrive, we believe one of the most important ways to fight burnout is to find purpose and meaning in the work you do every day. Our partnership with Walmart enables us to see the power of Thrive's behavior change platform in action every day. Through small better choices that build momentum over time, Walmart associates (and their friends and family) are able to make changes that drastically improve their lives and the lives of those around them.
Each month, we award 18 winners with a cash prize for their accomplishments in the Thrive Challenge. Reading through their stories and learning how each of them overcame everyday struggles gives us so much inspiration and passion for the work that we do.
Below, read the stories of our 18 winners for the month of November. We hope you enjoy them as much as we did!
Denise Dailey, Fulfillment Center #7544, Davenport, FL; $5K Winner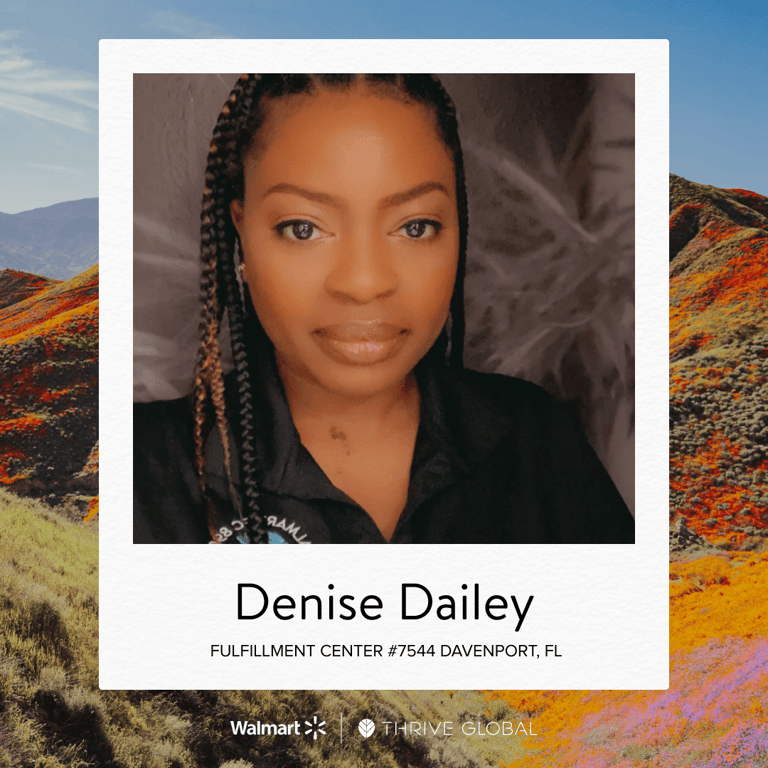 "Stress eating has been one of my biggest challenges. My partner, Kevin, and I have an 11-year-old daughter Xy, and as a family we weren't eating well. I downloaded the Thrive app and good nutrition came first. I started by looking at food labels, and I stopped buying fast food and processed food. We're cooking tasty Jamaican recipes, like fish stew with rice and peas. We make quick, healthy desserts, like Greek yogurt with a scoop of protein powder, or homemade acai smoothie bowls. We make a point of eating dinner together — and really connecting — every Sunday evening. My household is on a mission to get moving. Kevin surprised me with a treadmill and other exercise equipment like weights. And I walk every day. At work, we have a Thrive group — I could absolutely not do this alone. We're all encouraging each other. I've lost eight pounds, and I'm sleeping better. I'm so proud of my accomplishments, and my family is proud of me too."
Eric Brigham, Walmart Supercenter #1596, Bolingbrook, IL; $5K Winner
"My mother passed away a year ago and it was the most difficult experience of my life. I gained a lot of weight. I'm 42, and my wife, Valerie, and I have a beautiful four-year-old daughter, Ava, but I was in a bad spot physically and mentally. I downloaded the Thrive app and started changing the way I was eating with Microsteps like food prepping. We're eating lots of healthy fat, good protein, and veggies. I might have canned sardines for dinner. And I eat lots of fruit, like blueberries and raspberries. Moving has become a priority. We go for family walks, I lift weights, and take early morning bike rides. I take Ava to the park and I have more energy for her. I've lost a lot of weight and feel incredible. My confidence has improved. When I look in the mirror, I'm happy with the new me I see. The Thrive Challenge is just what I needed to get me out of that sad place and it put me on a new path to happiness."
Deontay Brooks, Walmart Supercenter #618, Hiram, GA; $5K Winner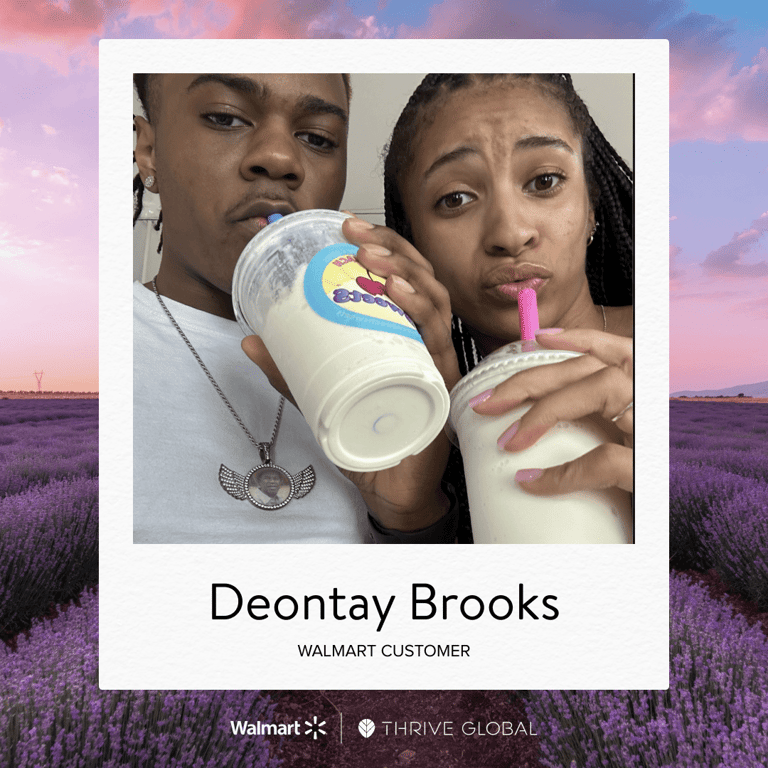 "A few months ago, I wasn't feeling good. I was eating fast food and my social anxiety was at an all time high. I'm only 18, but I was sluggish and unmotivated. I downloaded the Thrive app and my first Microstep was walking 1000 steps a day around my neighborhood, which has a lot of hills. Now, I'm walking or running over a mile. I stopped drinking soda and power drinks. I only drink water. And I started cooking. The other night I made grilled salmon with mashed potatoes and asparagus. It was great. My sisters and I get together to play basketball and we go swimming. My girlfriend, Ayana, and I feel much closer. We talk about our feelings instead of holding it all inside. I'm saving money. Putting money away every month makes me feel way more secure. My dad told me everything is possible if you strive towards it. I've told myself I'm going to save enough to buy the car I want, a Dodge Challenger, by the end of the year."
Kim Johnson, Walmart Supercenter #282, Franklin, KY; $5K Winner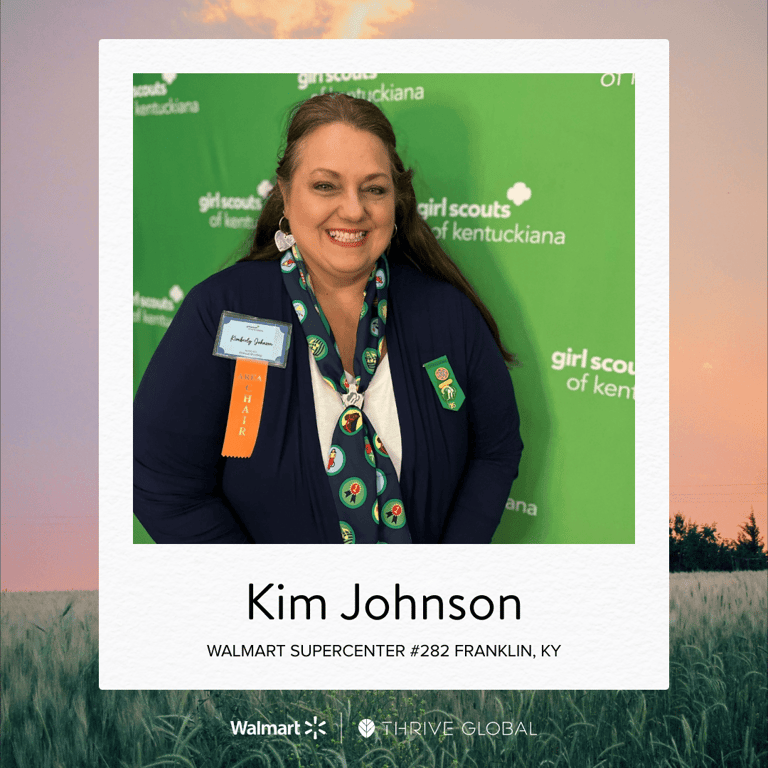 "I've always loved helping everyone else, but I wasn't doing much to support myself. I've struggled with my weight for my whole life, I had high blood pressure, and I weighed 315 pounds. When I turned 50. I decided it was time to take care of myself and I downloaded the Thrive app. My first Microstep was drinking more water. I cut out sodas. And we're cooking more. We love grilling chicken, which we season with garlic salt, and we pair it with grilled vegetables. I'm going for walks with our dog, Teddy. I've learned not to take the simple things in life for granted, like the nature all around us. My husband and I are connecting more. We talk and watch movies together. For years I've been volunteering for the Girl Scouts. Now I have more energy for the girls. I'm proud to say I've lost 38 pounds. My blood pressure and my A1C are lower, and my doctor is thrilled with my progress. Thrive has given me my life back."
Jade Covey, Walmart Supercenter #5260, Rogers, AR; $5K Winner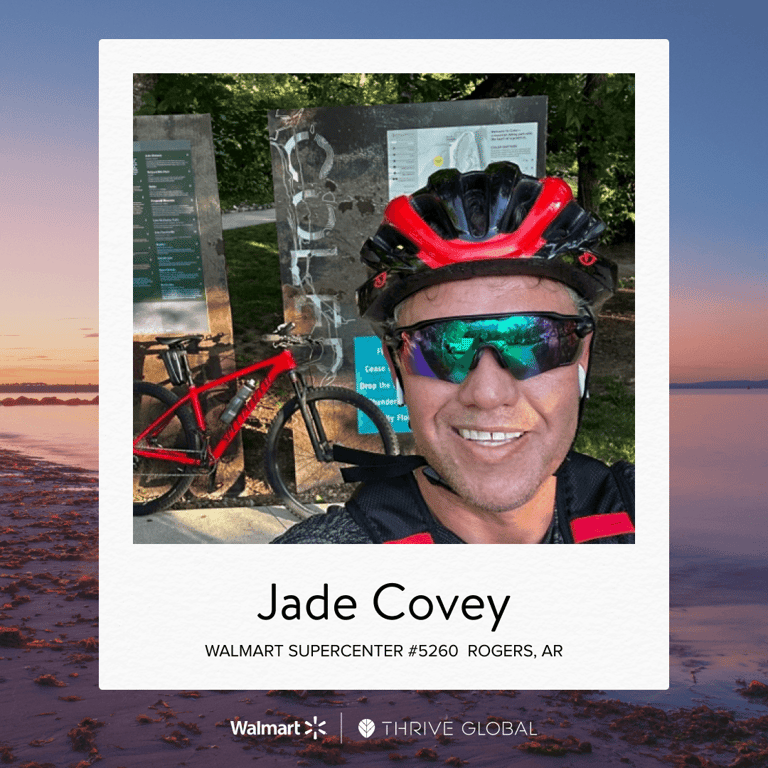 "I had a stressful start to the year. I am 46 years old and recently got divorced. I developed very unhealthy eating habits, I weighed 230 pounds, and I was a little depressed. I downloaded the Thrive app and started by cutting out fast food. I cook simple meals like baked or grilled fish with grilled squash, zucchini, and green beans. Right away the Microsteps helped me get into a healthy routine — just simple things like doing squats while brushing my teeth and doing arm circles every morning. Cycling has become a passion. I love getting out into the fresh air and into nature. I'm spending quality time with my kids. We play putt putt golf and we go to nature centers and museums. Thrive has helped me create good, positive habits. I've lost 30 pounds and kept it off. I feel great."
Cara Inman, Walmart Supercenter #103; Shawnee, OK; $5K Winner
"I used to have no self-confidence. I was doing a lot of stress eating and I weighed 350 pounds. I downloaded the Thrive app and began with Food Microsteps. Instead of just grabbing food, I listen to my body now. I ask myself, "Am I really hungry?" I'm cooking simple meals, like stir fries with chicken and veggies. I use smaller plates, which helps me not to overeat. Daily affirmations help me stay positive. I say to myself, "I am deserving of love, respect, and kindness, and I give these things to myself every day." I saved money, and in April I made a big leap and bought a house! I'm budgeting and putting money away from each check. I feel more in charge of my finances. The Thrive Challenge is amazing — it's really changed my life. I've lost a lot of weight and the pain is gone."
Brandi Taylor, Walmart Supercenter #2107, Lockport, NY; $5K Winner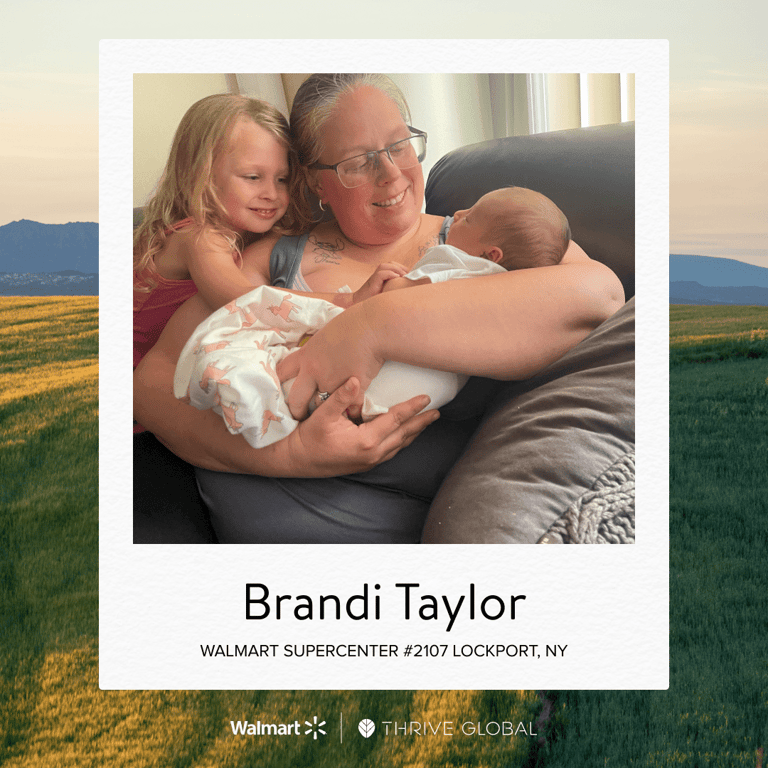 "I used to feel overwhelmed and stressed. My husband and I started coaching my granddaughter Isabella's T-ball team. And the first week I was just exhausted, chasing the kids around. I wanted to feel better! I heard about the Thrive Challenge and I got started. I pack my lunch instead of buying fried deli food. For dinner, we might make crockpot taco chicken that the kids enjoy — it's super-easy, but really good. I soon found I had more energy. As the weeks went on, coaching the kids became easier and easier, and I was less tired. I'm walking more too. And because I'm moving more, I'm sleeping better. We're connecting as a family, going on trips and having adventures together. The Thrive Challenge is so motivating. I am a better me for my family — I'm less stressed and happier — I feel better."
Justen Forbes, Distribution Center #7055, Gas City, IN; $5K Winner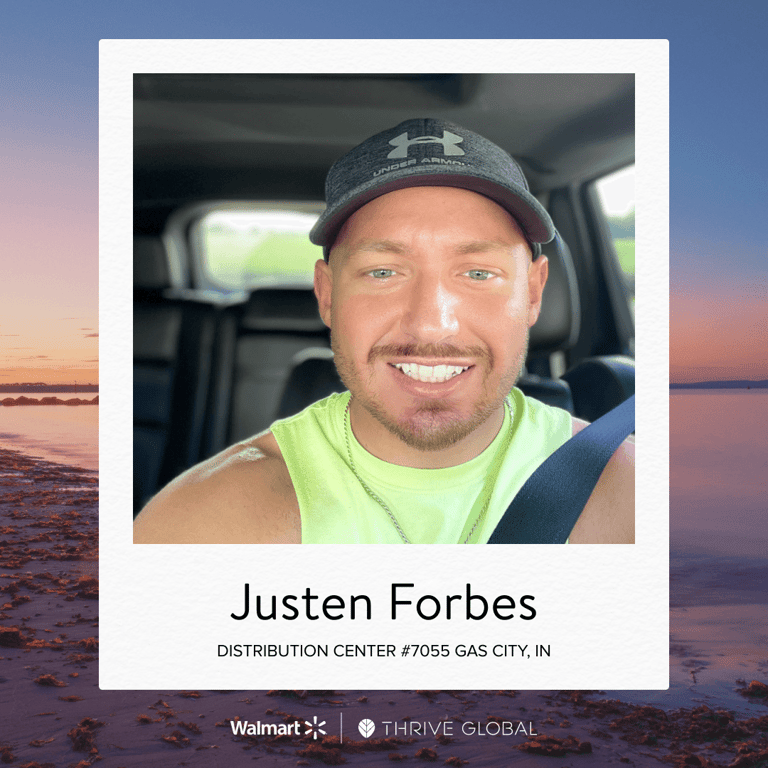 "I was eating fast food, candy bars and chips. I'm 28 and I weighed 225 pounds, and it affected me emotionally because I felt like I wasn't good enough. A co-worker, Ashley Gonzales, inspired me to start the Thrive Challenge. I started cooking instead of eating out. I'll make chicken with veggies, rice, and beans. I'm also eating fruit, like bananas, grapes, and strawberries, which are my absolute favorite. I've lost 28 pounds and I feel much better about myself. I began running half a mile a day and pushed myself a little further each time. Now I'm up to three miles, which feels great. I'm also going for four mile bike rides. I have more energy to be active with my family. We'll go to fairs together and have family cookouts. I play with my young nieces in the yard. I'm always chasing them around and we splash in the blow-up pool. Thrive is helping me change my life. I'm proud of myself. I'm more motivated and I make better decisions."
Yashira Santana Martínez, Walmart Store #2501, Bayamon, PR; $5K Winner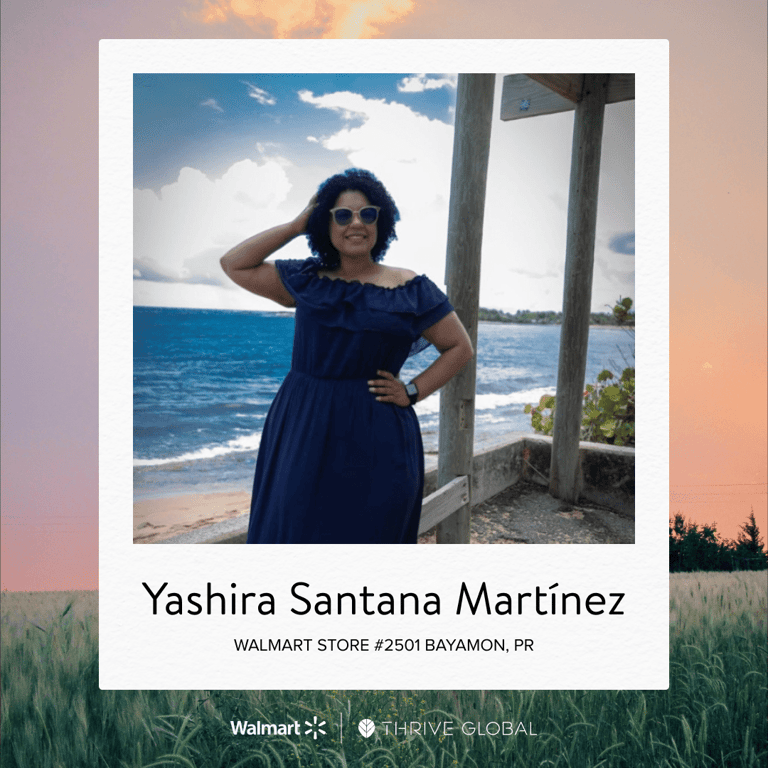 "Rest hours are of great importance to me, which is why I have established rest schedules respecting my circadian cycle both to meet my personal goal of losing weight and for my performance, mood, and concentration in daily tasks. I joined other people who shared the same goal of losing weight to exercise three times a week. Little by little, my endurance and breathing during the exercises improved and my energy level increased. I have always had a very good relationship with the people I love and I try to keep them in my environment. As part of the personal growth that my goal has allowed me, I can say that I relate better to the community in general. When my loved ones saw that I was determined to make changes, they began to support me and accompany me through the process. Their words of encouragement have been the driving force to not abandon the goal."
Robert Holloway, Distribution Center #6094, Bentonville, AR; $5K Winner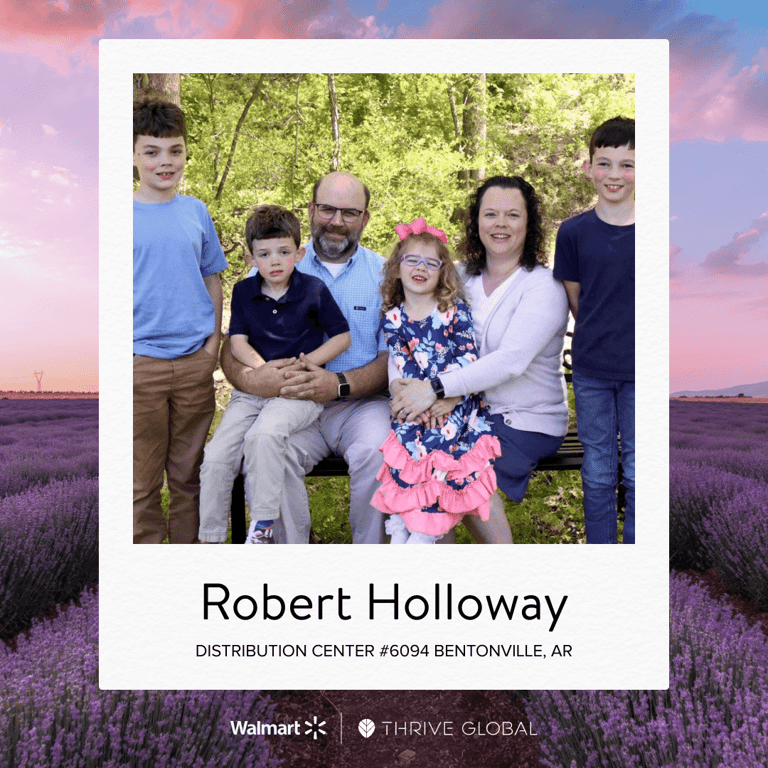 "My wife Vicki and I have four children. Life got busier, and for convenience, I'd eat fast food and drink soda. I weighed 285 pounds and I had extremely high cholesterol. I didn't want to live like that anymore, so I downloaded the Thrive app. My first Microstep was food prepping. I'd bring my lunch to work and I stopped drinking soda. A go-to dinner for us is zucchini noodles with alfredo sauce. Another Microstep was making a choice to move my body. I set up reminders on my smartwatch to walk 250 steps every hour; I gradually increased my movement, and now I walk 15,000 steps a day. At home I go for bike rides with my sons. We're gardening and growing vegetables like cabbage, peas, broccoli and tomatoes. We also bought a chicken coop and have fresh eggs. My knees and ankles don't hurt anymore, I've lost 40 pounds, and my cholesterol is normal. I know I'll have the energy to run and keep up with my kids as they get older."
Reuben Furry, Walmart Supercenter #1765, Somerset, PA; $5K Winner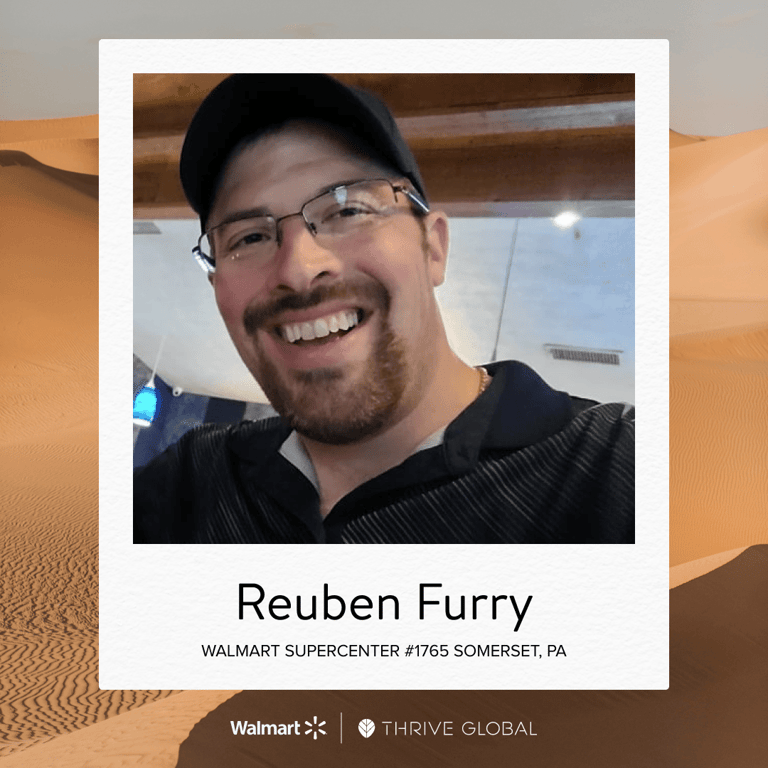 "I was stressed, foggy, and fatigued. I was eating junk food and I wasn't exercising. In the morning, I'd have a pot of coffee and at work, I'd have energy drinks. I had acid reflux and heartburn, and I took a lot of Prilosec. I'm 41, and my wife, Athena, and I have a nine-year-old son, Zebedee, but I didn't have the energy to play with him. I started the Thrive Challenge and cut out caffeine. I stayed away from microwave meals and I'm following a gluten free diet. I used to be a chef, so I do the cooking. Everyone loves my pan-fried salmon with Greek seasoning, asparagus, and rice. I've been drinking ginger and lemon tea to calm my stomach. I walk 10,000 steps a day, and Zeb and I go to the playground. He says 'You be the monster,' and I chase him! There's a world of difference in how I feel. I'm no longer bloated after eating and my stomach doesn't hurt. The Thrive Challenge has been a game changer."
Danielle Randall, Distribution Center #7078, Elwood, IL; $5K Winner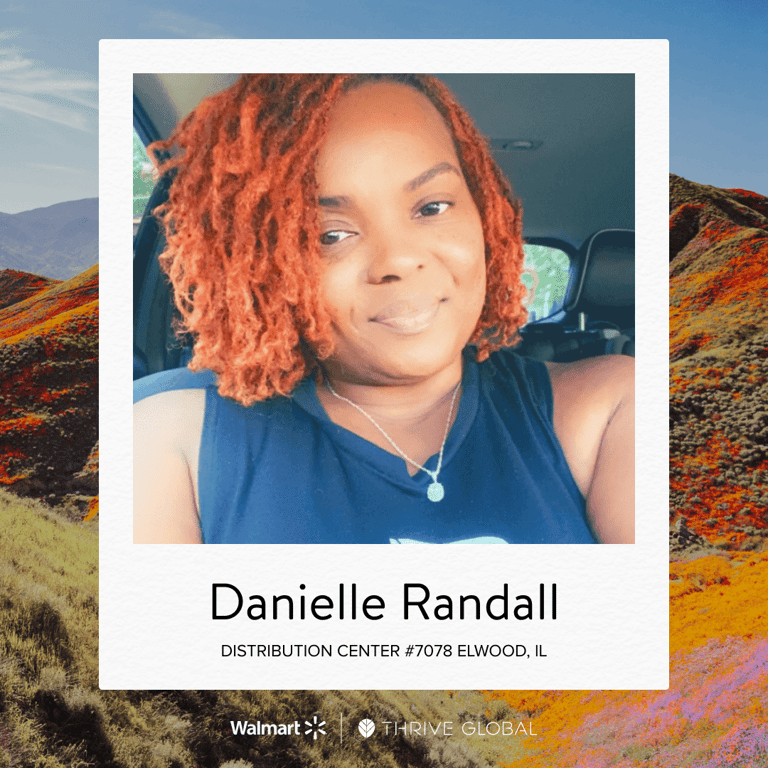 "My biggest challenge was dealing with my teenage daughter's behavior patterns after she was diagnosed with anxiety. I was slipping into depression while struggling with obesity. My doctor said if I didn't get a handle on my stress level, I was on the verge of having a stroke or a heart attack. So I downloaded the Thrive app. Connection Microsteps are helping me and my daughter communicate, and we're building a better relationship. We use simple breathing techniques. I learned that we can walk away from a heated conversation. I'll say, 'Baby let's take a step back and breathe, so we can listen to each other.' Working out is my release. I do one hour HIIT (High-intensity interval training) sessions and I walk  every day. I'm meal prepping. I make baked chicken tenderloins with veggies and steak tacos with keto tortillas. I've lost 30 pounds. At my last physical, my doctor told me I was no longer pre-diabetic. I can't believe how far I've come."
Lewis Bryant, Distribution Center #9153, Waco, TX; $5K Winner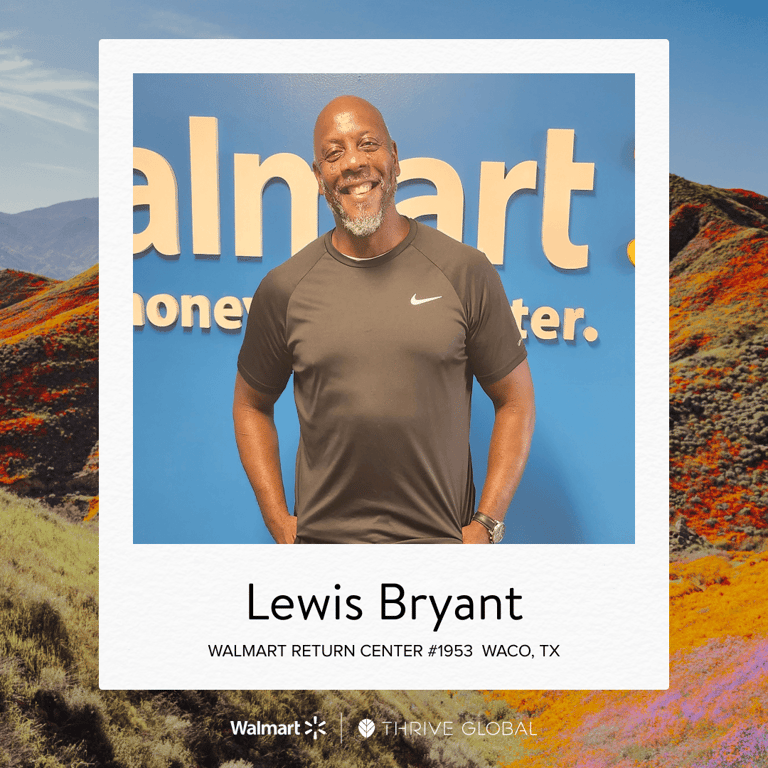 "I went to the doctor and found out I was borderline diabetic, and I had high cholesterol. A co-worker, Gabino Suarez, inspired me to download the Thrive app. I began food prepping. I take healthy snacks to work like apples and bananas instead of buying candy and chips. And I mostly eat tuna or baked chicken with salad. Soon, I started to lose belly fat. I go to the gym and walk on the treadmill. I also walk every evening. Angela and I spend more time together. We're always looking for things that will bring us joy. We play dominoes, and we listen to music, old school R&B, like The Temptations. Everything in my life has changed. My blood pressure and sugar are in the normal range now. I've lost 10 pounds. But my journey actually isn't about losing weight, it's about having a healthy and happy life."
Rebecca Tennison, Walmart Supercenter #556, Waycross, GA; $5K Winner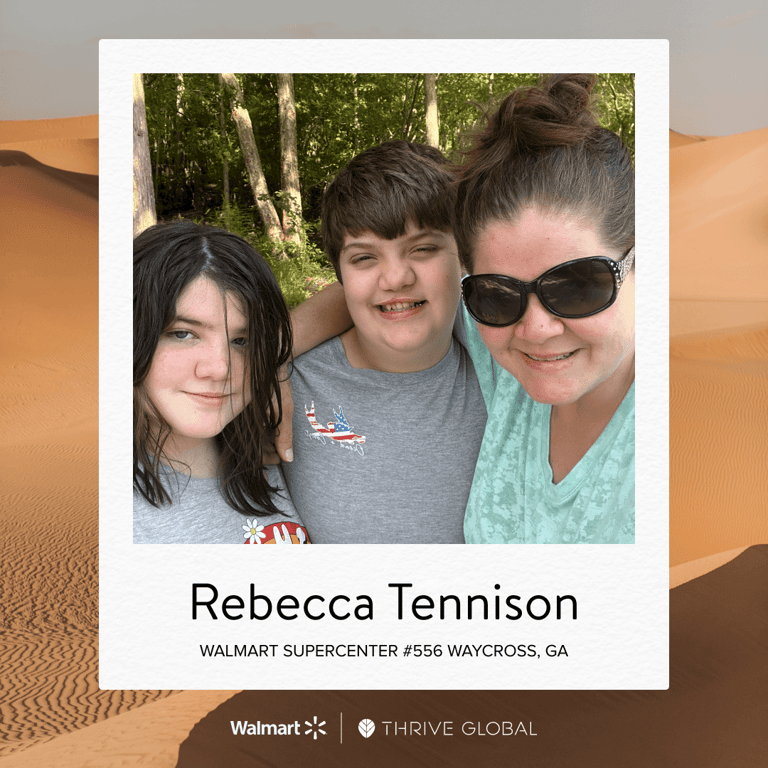 "For most of my adult life I've been diabetic and obese with high blood pressure. I weighed 248 pounds and I was in a dark place. My friend, Pam Jordan, inspired me to download the Thrive app. I began grilling, baking, or smoking lean meat or chicken. And I always have vegetables. I walk or stretch in my lunch breaks and I go to the gym with my husband. My kids and I used to be on our phones all the time, but now we'll go for a walk or a boat ride, or work in the yard together. I've lost 17 pounds so far. I went to the doctor for a check-up, and all my blood test results were great. Recently I took part in my first 3K run for breast cancer. The fact that I was able to make it over the finish line was a big milestone. Thrive is a life-line for me and I know I'll keep crushing my goals."
Widline Miller, Walmart Supercenter #593, Douglas, GA; $5K Winner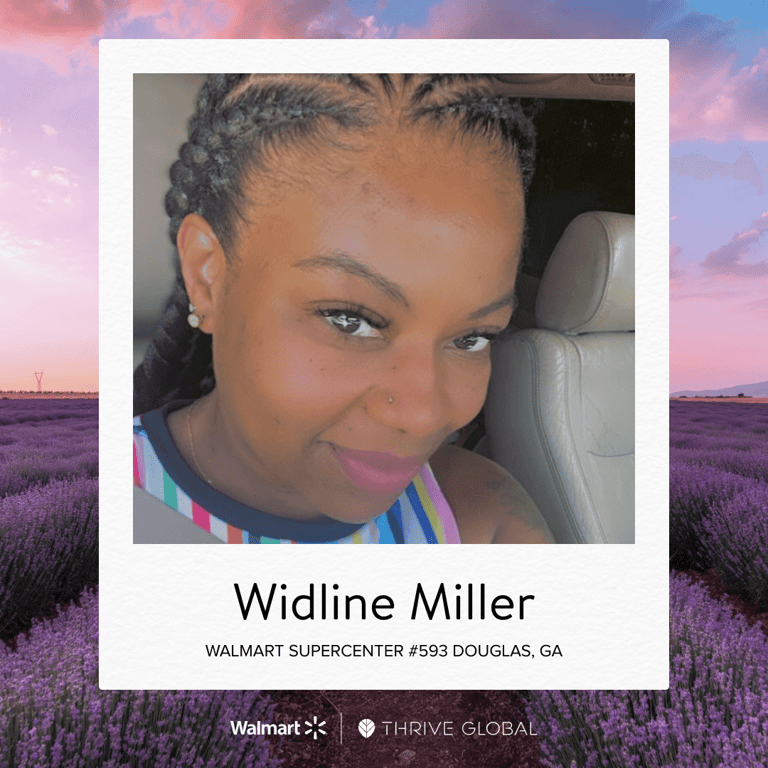 "I had a lot of financial difficulties that were stressful. I'm 36, I'm a mother of five, and my big goal was to purchase my dream home. But I had a low credit score. I really wanted to improve my finances, I also wanted more time for myself and my family. I started the Thrive Challenge and began by watching the videos and reading articles on the app. We eat at home instead of eating out now. And instead of going to the movies, we watch movies on T.V. at home. I've cut back on clothes and beauty treatments. And I cut all my credit cards into pieces. I contacted my credit bureau and arranged payment plans. My credit score went up to 610; it's changed big time, and I'm so proud of myself. I've just found out I've been approved for a home loan, which means I can finally buy a house. I've been crying a lot because I'm so happy. I've come a long way."
Raymond Truelove, Walmart Supercenter #7294, Norman, OK; $5K Winner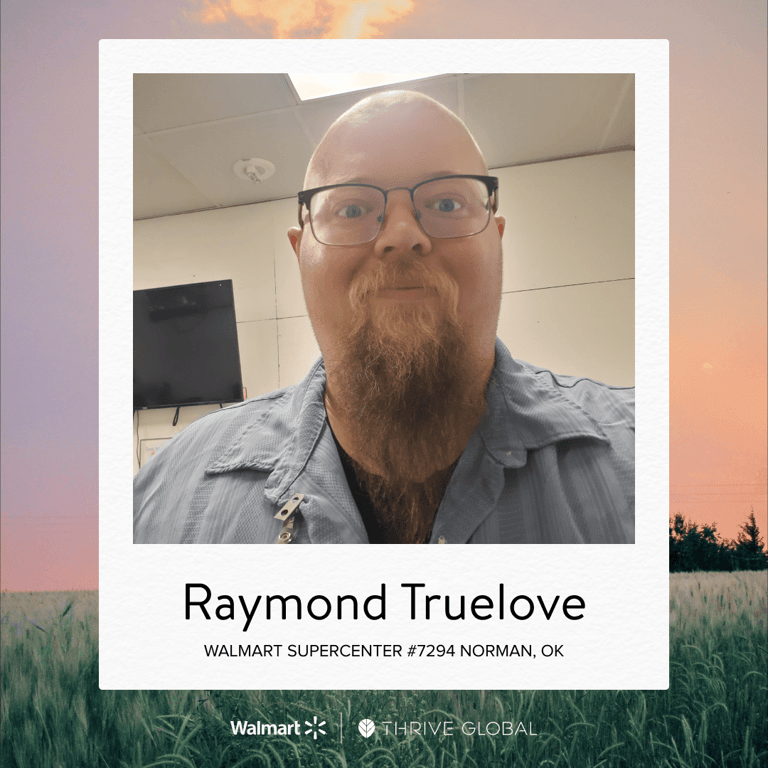 "I'm 33 and I weighed 442 pounds. I ate tons of processed junk food, I was sluggish, and couldn't keep up with my four kids. I started the Thrive Challenge and began with a Microstep: swapping sodas for water. It was difficult at first, but after the first week or so, my headaches went away. Now I only drink water. I do intermittent fasting; I cook steak, fish, or chicken with seasoning and veggies. I walk on average 20 thousand steps a day. And I have a lot more energy for the kids. We're always playing tag, throwing a ball, and wrestling around. I'll tell each of my children I love them and give them a hug before I leave for work. We're really bonding. I weighed myself yesterday and I've lost a lot of weight. When I stepped on that scale, it was a euphoric feeling. I can bend and kneel. My journey has just begun, and I must say, I feel better than I've ever felt in my adult life."
Lee Wright, Walmart Supercenter #766, Florence, AL; $5K Winner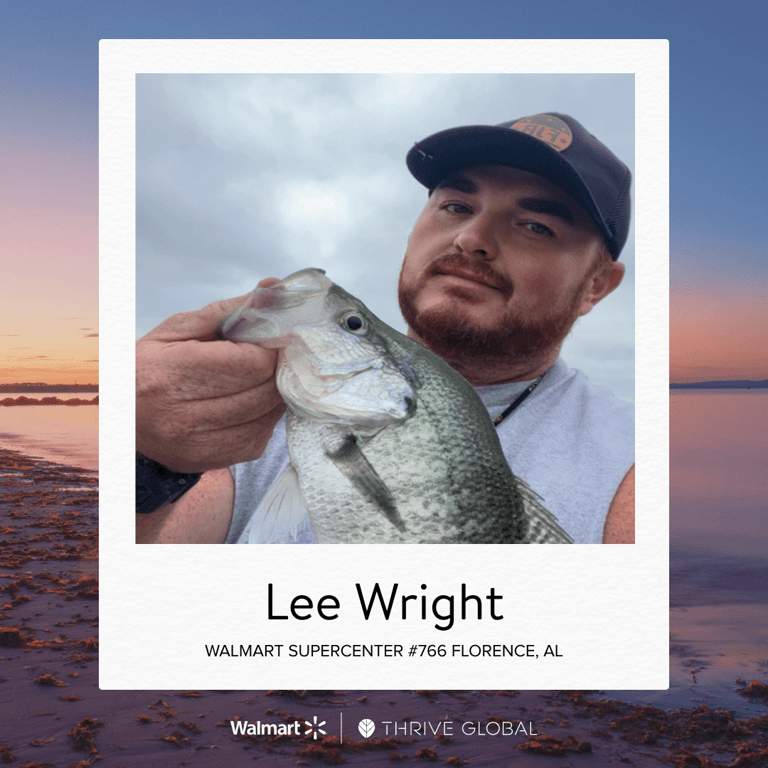 "I've been overweight my whole life — it's always been a struggle. At my heaviest I weighed 355 pounds. I had both hips replaced. I was tired of being tired, so I downloaded the Thrive app. My first Microstep: making a choice to move my body. I started with 1,000 steps daily and gradually increased my walking. Now I walk between 7,000 and 10,000 steps every day. Another Microstep I picked was drinking water instead of sugary drinks. And instead of eating fast food, I'm cooking great meals. I love to grill chicken or steak, and I also put cabbage and corn on the grill. My wife, Amanda, and I are bonding more, and we support each other. She works for Walmart too, and just signed up to start her own Thrive Challenge. I've lost a lot of weight and I reversed my diabetes. And I feel 15 years younger."
Hope Mcguire, Walmart Supercenter, Lavale, MD; $5K Winner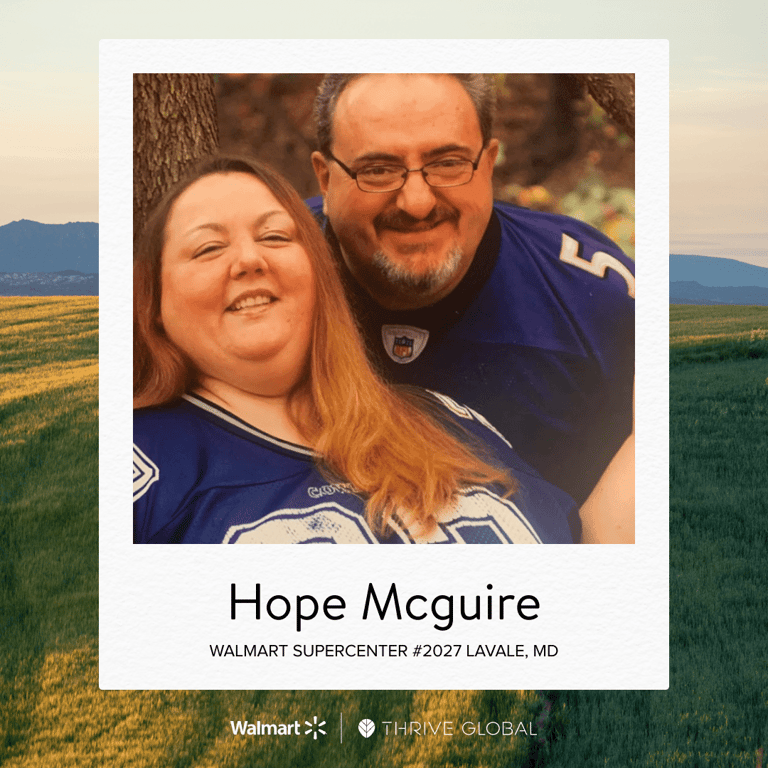 "Four years ago I lost my husband, and as well as grieving, I was left as the sole provider for our two kids. I weighed 330 pounds, and my A1C was over 11. I knew I needed to change my eating habits. A year ago I started the Thrive Challenge. Instead of frying my food, I'm simmering, stewing, or steaming everything. My favorite meal is chicken cooked in the airfryer with Thai chili sauce, broccoli, and rice. I'm a pharmacy technician and my biggest source of stress was my work. Now, when I'm overwhelmed, I use my Microstep and walk away for a few minutes. I'll do some deep breathing and reflect on things. Thrive Microsteps are helping me put my financial situation into perspective. I made a budget and I make a deposit into my savings account from every paycheck. My goal is to be close to debt free in the next three years. I've lost a lot of weight. I'm starting to heal emotionally after my husband's death, and I'm hopeful about the future."