The New Normal of Working from Home
Having an opportunity to work from home has been a dream for many, and in an effort to curb the spread of novel Coronavirus, this dream has become reality for large numbers as companies are following the Center for Disease Control (CDC)'s recommendation of embracing telework options.
Yet while working from home may sound easy and relaxing, many of us are finding it's a challenge to have the same level of productivity we had at the office, and the lack of face-to-face contact can also create feelings of loneliness in addition to the added stress and anxiety of homeschooling and child care due to school closures. Successfully balancing work and home life takes a little bit of time, but making small adjustments to your schedule, environment, and mindset can help. We've put together a few tips and suggestions for working from home to help you be your healthiest, happiest and most productive.
Looking to start your day with more clarity and calm? check out our Mindful Daily Sessions!
Prepare Your Body for Prolonged Sitting
It may seem like you sit just as much at home as you do at the office, but depending on what your home office looks like, you may be sitting in more awkward positions throughout your workday at home. If you don't have a proper desk and office setup, sitting on a couch or a kitchen chair all day can affect your posture. The absence of walking to and from your car, going to the office coffee machine, and all of the other small walking trips you take throughout the day at your workplace can also lead to more soreness at the end of the day.
You can help your body adjust to these changes by incorporating light stretches and mindful movements when you first wake up and throughout the day, such as:
Sitting on the edge of your bed with your hands on your knees and gently twisting 15-20 times from side to side can help give your spine a good stretch.
If you're feeling neck strain, laying with a rolled-up towel under your neck can extend and relieve those muscles so your body can adjust.
Go for a 15-20 minute walk in the morning and to break up your day. You can also use this opportunity to get your blood flowing and enjoy a mindful moment! Notice your surroundings, the feeling of the breeze on your skin; the sound of leaves or grass crunching beneath your shoes; the vibrant hues of flowers along your walking path.
Take a few moments to get recentered, clear-headed and focused with one of our Mindful Daily sessions.
If you're able to, investing in a standing desk or an ergonomic office chair can also enhance your comfort at your home office.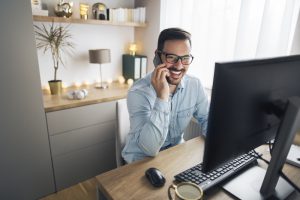 Transfer Your Commute Time to Mindfulness Time
One of the major benefits of teleworking is no longer having to worry about a commute. The time that you would typically spend in traffic or waiting in line at the coffee drive-thru can now be spent differently, and using that time for self-care and mindfulness can help you start your day with more clarity and be more present for whatever tasks or projects await you.
With everyone around you reacting and responding in different ways to the Coronavirus spread and socialization restrictions, using mindfulness to maintain your wellness and inner peace can be a way for you to navigate this ever-changing situation in a way that feels right for you and your family.
Finding it hard to fall asleep? Our Mindful Sleep Meditations on-demand content can help!
Find Better Times for Distractions
With thousands of schools currently closed across the country, many parents also have to juggle their kids' education, care, and development around their own teleworking schedules. The tempting call of unfinished laundry, cooking, and other typical home distractions can add another level of difficulty to adjusting to a home office.
It's valid to feel overwhelmed by everything that needs to get done at both work and home, but making time for the distractions outside of your work schedule and setting boundaries with your partner and/or boss can help you balance your schedule without burning out. After all, these are extraordinary times, but it's important to recognize you are only one person.
Work/Home Responsibilities Balance. If you've got kids at home right now, does your supervisor know? Making a plan for your expectations at work while you also need to accommodate your child's education and well-being can help ensure that you're devoting the time and energy necessary for both.
Chores. Scheduling chores before and/or after work just like you'd schedule a meeting can be a helpful way to make sure they get done without interrupting your productivity. If you have older children at home or a partner, delegating chores can make maintaining your household a family effort.
Playtime/Bonding. Younger kids at home are no doubt excited to have you there all day and may prefer to play with you instead of keeping themselves busy. Scheduling a time block where you can give them one-on-one attention in the morning, during a break, or after work and discussing your schedule with them can help them feel included in the plan. During your work time, help them create their "work time" as well with educational and creative crafts, movies, and games.
Phone Calls and Messages. It's the middle of your workday and a friend or family member calls or messages you – but you know it's probably going to turn into a lengthy chat rather than a short catch-up. It can be detrimental to your focus and energy to immediately respond, but dedicating a time after work to touch base with the people in your life can help you stay on track.
Keep Your Morning Routine
This may seem obvious, but as tempting as it may be to work in your pajamas every day, going through your morning routine and getting dressed like you would for a typical day at the office can boost your productivity and self-confidence. The challenge that many people have when working from home is separating work time from relaxing time. When you're used to being in work mode at the office and changing to relaxing mode once you get home, it's normal to struggle when that distinction is suddenly gone.
Getting ready and getting dressed in the morning can help your mind distinguish between working time and relaxing time, and if you're able to work in a room or area away from wherever you usually relax at home, it can help keep your mind productive throughout your workday.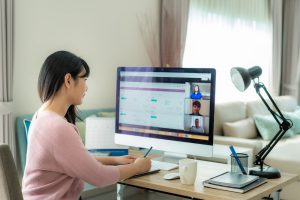 Find Gratitude for New Tech and Have Fun with Your Coworkers
In addition to your computer, mouse, keyboard, and Wi-Fi connection, there may be a handful of new apps coming your way to help you and the rest of your company connect. Our highly technological culture has multiple ways to chat, collaborate on projects, share files and more, and while learning everything at once may seem daunting, it is also an opportunity to find gratitude for the chance to learn something new.
Along with embracing new tech, it's also important to find moments where you can share a smile or laugh with your team. If your new chat app has emojis or GIFs, it can add an element of fun to your remote working to try these out with everyone while you all get used to your new setups. In the absence of the "water cooler conversations" we have at the office, maintaining those connections through chat – whether it be video or typing – are crucial.
Since eMindful's entire team has moved to teleworking, for the time being, we've gotten creative with staying connected, hosting virtual lunches, sharing messages of gratitude and lightheartedness in our internal messaging system, and beginning meetings with a mindfulness or well-being check-in.
Practice Self-Care While Working From Home
Balancing work and home can seem more challenging now than ever, but by taking the time to stretch, incorporate mindfulness and inward reflection, balance work and home responsibilities rationally, maintain your normal routine as much as possible, and find gratitude in your situation are all tools that can help you work from home successfully during this time of uncertainty and change.
Add our 7 Days of Emotional Intelligence Series to your day to help you sit with discomfort and make more intentional decisions